WWF is working to ensure seafood is produced and sourced responsibly.
Through a stepwise approach to fisheries and aquaculture management, WWF works with fishers and farms, governments, industry, and others to transform the global seafood market. This will help wild fisheries and farms meet the level of credible, global certification standards for sustainable seafood.
WWF focuses its efforts on reducing the impacts of fishing and aquaculture on the world's most ecologically important habitats, from the high seas of the Atlantic to the mangroves of Southeast Asia.
Before they can meet rigorous certification standards, many fisheries and farms first become fishery improvement projects (FIPs) and aquaculture improvement projects (AIPs), respectively.
This website is a resource for retailers, food service companies and other stakeholders that want to track the progress of FIPs and AIPs and find fisheries and farms on the path to sustainability.
OUR SOLUTIONS
From fish to dish, WWF works with seafood stakeholders and the most credible certification standards to help the market bring responsibly produced seafood to consumers.
Aquaculture Stewardship Council
ASC manages a species-specific set of standards for responsible aquaculture. Developed through an intensive stakeholder engagement these standards seek to reduce the key social and environmental impacts of farmed seafood production. For more information about ASC's conservation impacts, click here.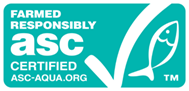 Marine Stewardship Council
MSC's independent, rigorous and robust certification process is the only credible standard recognized by WWF for sustainable wild-caught fisheries and for traceability of certified product from boat to plate. For more information about MSC's conservation impacts, click here.

Supply Chain Engagement
WWF works with retailers, food service companies, manufacturers, suppliers, and producers to transition fisheries and farms on the path to sustainability. By engaging their current supply chains the private sector can incentivize improved practices and positive environmental change.
Get Involved. Get Started.
CONTACT US
We encourage active participation in improvement projects and engage stakeholders at all levels. Please contact our team at info@nullseafoodsustainability.org, or via the contact form below.