Bahamas Lobster
entered MSC full assessment on January 12, 2017
Last Updated: September 7, 2017
The Bahamas spiny lobster fishery exports the majority of its product to the United States and Europe for an estimated $80 million dollars. Thousands of Bahamians earn a livelihood fishing for lobster on a full or part-time basis.
Critical issues challenging this fishery include: government capacity to address illegal, unreported and unregulated (IUU) fishing; adopting a harvest strategy; reviewing management performance; and collecting reliable spatial catch data.
The active involvement of FIP Stakeholders, including the Bahamas Marine Exporters Association (BMEA), the Department of Marine Resources (DMR) and The Nature Conservancy (TNC), and FIP Participants drives improvements against the Marine Stewardship Council (MSC) standard. The fishery entered the MSC full assessment process on January 12, 2017 and will be completed by July 2018.
WHAT WE ARE DOING
FIP efforts address governance, fishing practices, and environmental impacts of the fishery so it can meet the MSC standard. This work is steered by FIP participants and FIP stakeholders and includes:
Conducting an updated, peer-reviewed stock assessment to monitor the health of the Bahamas lobster stock.

Establishing a public forum for stakeholders to participate in the management of the lobster fishery.

Collecting reliable fishery data with the Bahamas government that includes fishing effort (amount of gear used) and spatial data (where gear is set).

Analyzing the monitoring and control of IUU fishing to ensure that the level of deterrence is appropriate for the fishery's value.

Developing a lobster harvest strategy, a fishery management plan, and procedures to review the performance of the lobster fishery management.
[/tatsu_column]
FIP PARTICIPANTS
We encourage action across the supply chain to support FIP progress. A FIP Participant is an industry member that is part of the seafood supply chain for the FIP product and is actively engaged in supporting the FIP.
How Can I Become a FIP Participant?
A FIP Participant is an industry member that is part of the seafood supply chain for the FIP product (e.g., retailers, food service providers, suppliers, manufacturers, etc.) and is actively engaged in supporting the FIP. WWF-US encourages support of FIP participants, and will acknowledge FIP Participants on our sustainable seafood website and in other communications regarding our FIP work.
To be considered by WWF-US as a FIP Participant the participating entity is expected to follow the WWF-US FIP Participant Policy.
For more information about what a FIP is and how you can play a role, please contact info@nullseafoodsustainability.org.
PROGRESS AND ACTIVITY
The Marine Stewardship Council uses 28 performance indicators to assess the sustainability of fisheries. The chart represents the percentage of indicators that would likely pass, pass with conditions for improvement, or fail upon the fishery's full assessment.
Bahamas Lobster FIP Status
We use a step-wise process to evaluate the fishery's performance and identify sustainability issues, and then to implement improvements and report results. Want to dive deeper into this FIP's progress on each of the MSC performance indicators? Visit FisheryProgress.org.
Working together to protect a fishery in The Bahamas
July 17, 2016
By all accounts, Glenn Pritchard and Mia Isaacs should be rivals. They each own a seafood processing plant and exporting company in The Bahamas, and both stake a claim to the lucrative spiny lobster business. Their products reach restaurants at home and massive markets in North America, Europe, and Asia.
Get Involved
Become a FIP Participant
By signing on to support a FIP you are joining forces with other leaders in the industry that seek to help conserve marine ecosystems, protect livelihoods, and increase the number of sustainable fisheries and the overall supply of sustainable seafood.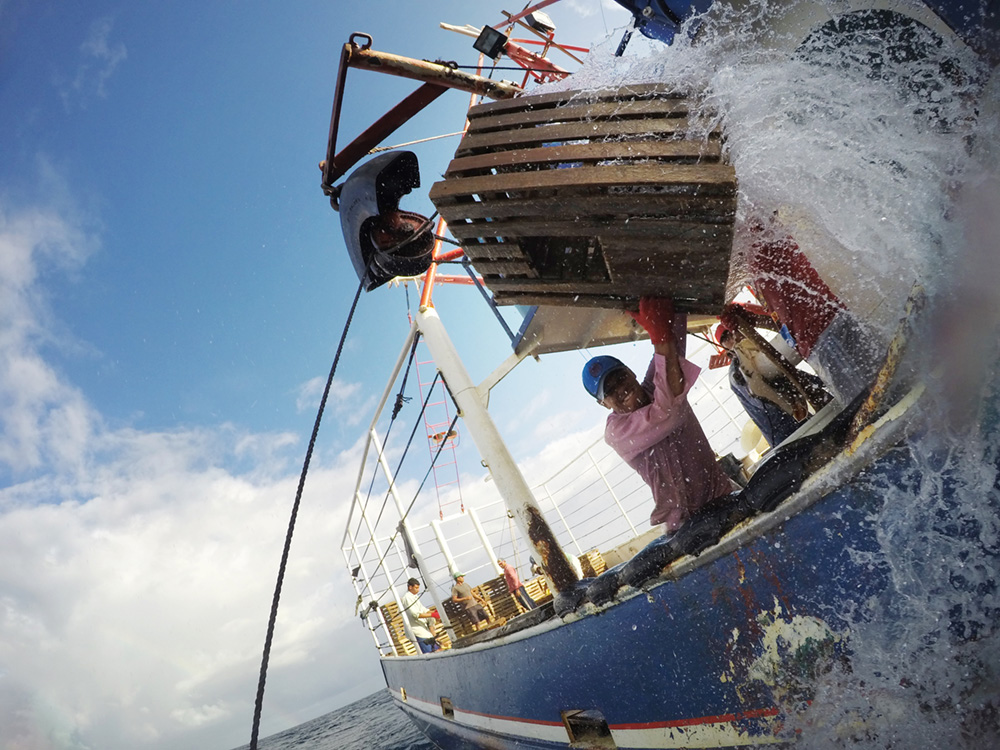 © Antonio Busiello | WWF-US