Vietnam Blue Swimming Crab
FIP Stage: 5 (Improvements on the Water)
Last Updated: October 25, 2016
The Kien Giang blue swimming crab fishery supports the livelihoods of an estimated 20,000 fishers and their families and is an important export product for Vietnam. Yet there are critical issues facing this fishery, including the harvest of undersized crab and gravid females, a lack of sound knowledge on the health of the stock, and lack of enforcement capacity. Through the active involvement of FIP Stakeholders, such as the Department of Agriculture and Resource Development (DARD), Research Institute Fisheries Management and Provincial Peoples Committee, and FIP Participants, the sustainability challenges facing this fishery are being addressed.
WHAT WE ARE DOING
FIP efforts address governance, fishing practices, and environmental impacts of the fishery so that it can meet the MSC standard. This work is steered by FIP participants and FIP stakeholders and includes:
Working with government management agencies and local fishers to improve stock assessment and bycatch information.

Working with DARD and the Vietnam Association of Exporters and Producers (VASEP) Crab Council to improve law enforcement capacity and effectiveness to address illegal fishing at sea and in the ports.

Working with government agencies to develop and implement a crab fishery management plan that will ensure sustainable management.
FIP PARTICIPANTS
We encourage action across the supply chain to support FIP progress. A FIP Participant is an industry member that is part of the seafood supply chain for the FIP product and is actively engaged in supporting the FIP.
How Can I Become a FIP Participant?
A FIP Participant is an industry member that is part of the seafood supply chain for the FIP product (e.g., retailers, food service providers, suppliers, manufacturers, etc.) and is actively engaged in supporting the FIP. WWF-US encourages support of FIP participants, and will acknowledge FIP Participants on our sustainable seafood website and in other communications regarding our FIP work.
To be considered by WWF-US as a FIP Participant the participating entity is expected to follow the WWF-US FIP Participant Policy.
For more information about what a FIP is and how you can play a role, please contact info@nullseafoodsustainability.org.
PROGRESS AND ACTIVITY
The Marine Stewardship Council uses 28 performance indicators to assess the sustainability of fisheries. The chart represents the percentage of indicators that would likely pass, pass with conditions for improvement, or fail upon the fishery's full assessment.
Vietnam Blue Swimming Crab FIP Status
Implementing Improvements
We use a step-wise process to evaluate the fishery's performance and identify sustainability issues, and then to implement improvements and report results. Want to dive deeper into this FIP's progress on each of the MSC performance indicators? Visit FisheryProgress.org.
Making blue swimming crab fishing sustainable in Vietnam
October 20, 2016
Kien Giang province is nestled in the southwest of Vietnam, featuring a prominent coastline along the Gulf of Thailand. Here in these tepid waters lives the blue swimming crab, a crustacean with an olive-green body and front claws the color of the sky on a clear day.
Get Involved
Become a FIP Participant
By signing on to support a FIP you are joining forces with other leaders in the industry that seek to help conserve marine ecosystems, protect livelihoods, and increase the number of sustainable fisheries and the overall supply of sustainable seafood.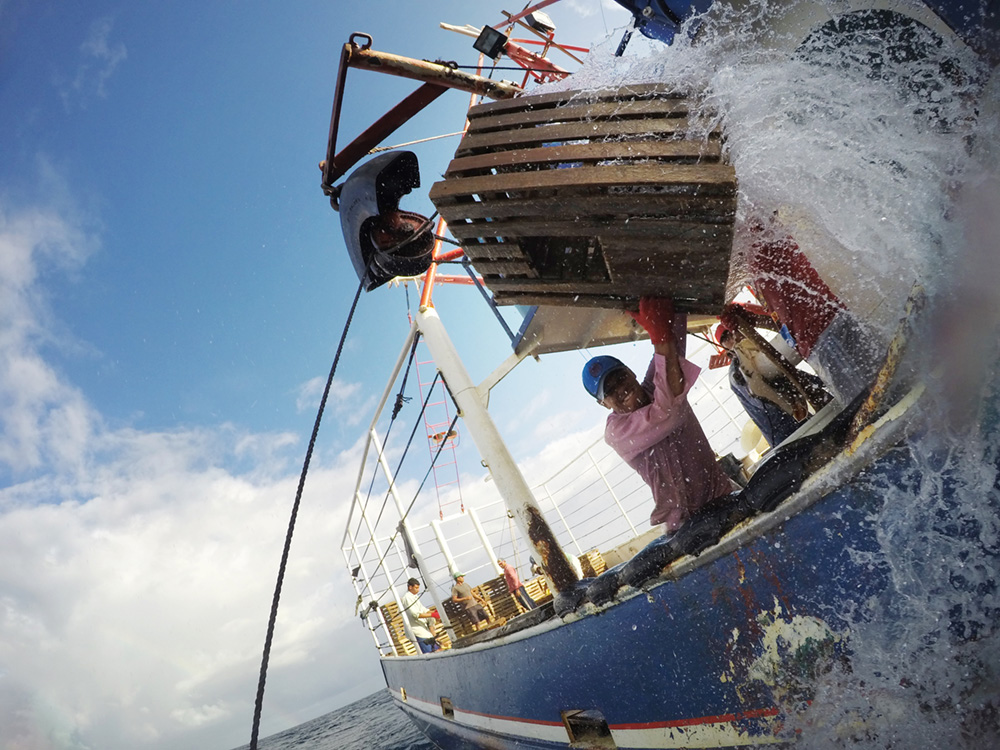 © Antonio Busiello | WWF-US