Atlantic Ocean Tuna Purse Seine
FIP Stage: 4 (Improvements to Fishing Practices or Management)
Progress Rating: A (Advanced Progress)
Start Date: April 2020
Last Updated: March 2022
Tuna and other seafood products are some of the main exports of West African countries, including Senegal, with exports worth more than $1.7 billion between 2013 and 2017. This FIP is export market-oriented, with the majority of its tuna caught in the nutrient-rich waters of West Africa sent to the United States and Europe. Six purse seine vessels (flagged to Senegal) participate in this FIP, employing and supporting 121 fishers.
Critical issues challenging this fishery include inadequate international and national fisheries regulations and limited information on how this fishery impacts the surrounding marine ecosystem. Currently, there are no formal guidelines, known as harvest control rules (HCRs), in place to determine catch or effort-related limits for the three target species. More data is needed to understand and subsequently minimize interactions and bycatch of endangered, threatened, or protected species.
The active involvement of FIP Stakeholders, including WWF Korea, and FIP Participants drives improvements against the Marine Stewardship Council standard.
WHAT WE ARE DOING
FIP efforts address governance, fishing practices, and environmental impacts of the fishery so that it can meet the MSC standard. This work is steered by FIP Participants and FIP stakeholders and includes:
Planning trainings for skippers to improve their accuracy in identifying and recording species caught as bycatch, and to inform them of best-practices for handling these species.

Conducting a review of existent fishery dispute mechanisms in participating countries, with the goal to develop dispute mechanisms that are transparent, effective, observant of customary rights, and enshrined in each country's national legislation.

Holding stakeholder consultations and conducting a review of existent fisheries management legislation, with the objective for Senegal to adopt a national tuna management plan.
FIP PARTICIPANTS
We encourage action across the supply chain to support FIP progress. A FIP Participant is an industry member that is part of the seafood supply chain for the FIP product and is actively engaged in supporting the FIP.
How Can I Become a FIP Participant?
A FIP Participant is an industry member that is part of the seafood supply chain for the FIP product (e.g., retailers, food service providers, suppliers, manufacturers, etc.) and is actively engaged in supporting the FIP. WWF-US encourages support of FIP participants, and will acknowledge FIP Participants on our sustainable seafood website and in other communications regarding our FIP work.
To be considered by WWF-US as a FIP Participant the participating entity is expected to follow the WWF-US FIP Participant Policy.
For more information about what a FIP is and how you can play a role, please contact info@nullseafoodsustainability.org.
PROGRESS AND ACTIVITY
The Marine Stewardship Council uses 28 performance indicators to assess the sustainability of fisheries. The chart represents the percentage of indicators that would likely pass, pass with conditions for improvement, or fail upon the fishery's full assessment.
Atlantic Ocean Tuna Project FIP Status
We use a step-wise process to evaluate the fishery's performance and identify sustainability issues, and then to implement improvements and report results. Want to dive deeper into this FIP's progress on each of the MSC performance indicators? Visit FisheryProgress.org.
FIP OUTCOMES TO DATE
The fishery has achieved the following impacts through improved practices and management
Drafted a fish aggregating device (FAD) Statement of Intent that lays the groundwork to eventually develop a FAD Policy. This FAD policy will include provisions and guidance on minimizing entanglement of species such as turtles and sharks with the FAD, as well as plan a transition towards the use of biodegradable FADs. As abandoned FADs can accumulate at sea, finding alternative, biodegradable materials can reduce ocean pollution.

All participating vessels have agreed to release historical catch data from 2016 to 2020. Improved data contributes to more-informed management decisions moving forward.
Get Involved
Become a FIP Participant
By signing on to support a FIP you are joining forces with other leaders in the industry that seek to help conserve marine ecosystems, protect livelihoods, and increase the number of sustainable fisheries and the overall supply of sustainable seafood.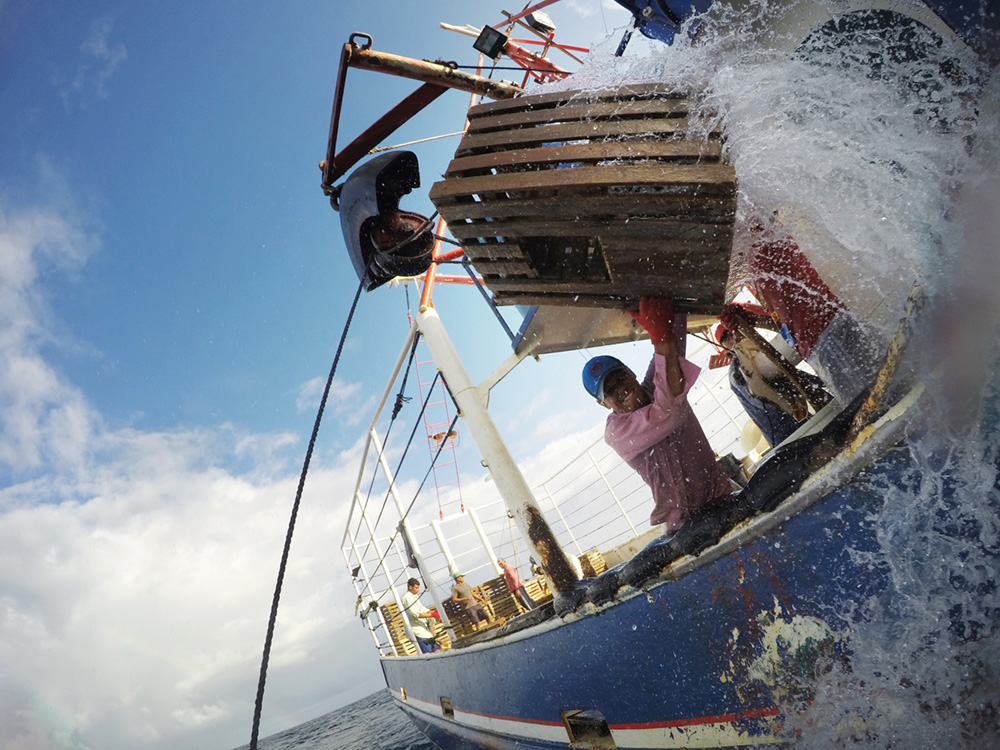 © Antonio Busiello | WWF-US