Eastern Pacific Ocean Tuna Longline
Transmarina
FIP Stage: 3 (FIP Implementation)
Last Updated: September 2019
Ecuador is a major world player in the tuna industry. The Ecuadorian tuna industry generates 1.2 billion dollars and employs, directly and indirectly, approximately 50,000 people in the country's coastal region. Transmarina is a company that operates a fleet of four industrial longline vessels that target bigeye tuna, yellowfin tuna, and southern albacore tuna. These species are caught using state-of-the-art technology to improve retrieval of fishing lines and other systems that reduce negative ecosystem impacts. The fleet's catch supplies the sashimi markets of Europe and Asia.
Critical issues challenging this fishery include the lack of information about where the fleet operates, its level of fishing effort, and its impact on the marine ecosystem.
The active involvement of FIP Stakeholders, including WWF Ecuador, the Ministry of Foreign Trade and Fisheries, Industrial fishing associations, National Fishery Institute (INP) and Fishery School of the Eastern Pacific Ocean (EPESPO), and FIP Participants drives improvements against the Marine Stewardship Council standard.
WHAT WE ARE DOING
FIP efforts address governance, fishing practices, and environmental impacts of the fishery so that it can meet the MSC standard. This work is steered by FIP participants and FIP stakeholders and includes:
Promoting Best Fishing Practices: Continuous trainings are being conducted with fishermen to promote best practices in handling and release of bycatch.

Transmarina and Tunacons are promoting the development of the Tuna National Action Plan.

Conducting the first technical analysis on bycatch of the Ecuadorian industrial tuna longline vessels in the eastern Pacific.
FIP PARTICIPANTS
We encourage action across the supply chain to support FIP progress. A FIP Participant is an industry member that is part of the seafood supply chain for the FIP product and is actively engaged in supporting the FIP.
How Can I Become a FIP Participant?
A FIP Participant is an industry member that is part of the seafood supply chain for the FIP product (e.g., retailers, food service providers, suppliers, manufacturers, etc.) and is actively engaged in supporting the FIP. WWF-US encourages support of FIP participants, and will acknowledge FIP Participants on our sustainable seafood website and in other communications regarding our FIP work.
To be considered by WWF-US as a FIP Participant the participating entity is expected to follow the WWF-US FIP Participant Policy.
For more information about what a FIP is and how you can play a role, please contact info@nullseafoodsustainability.org.
PROGRESS AND ACTIVITY
The Marine Stewardship Council uses 28 performance indicators to assess the sustainability of fisheries. The chart represents the percentage of indicators that would likely pass, pass with conditions for improvement, or fail upon the fishery's full assessment.
Eastern Pacific Ocean Tuna Longline (Transmarina) FIP Status
Implementing Improvements
We use a step-wise process to evaluate the fishery's performance and identify sustainability issues, and then to implement improvements and report results. Want to dive deeper into this FIP's progress on each of the MSC performance indicators? Visit FisheryProgress.org.
FIP OUTCOMES TO DATE
The fishery has achieved the following impacts through improved practices and management
Design and implementation of the first fishery observer program of its kind. On-board observers covering all vessels in the fleet are collecting valuable information on areas of operation, fishing effort and catches of the fleet.
Other efforts to promote a sustainable future for Ecuador's fisheries
August 7, 2018
Another critically important fishery to Ecuador, the mahi mahi fishery, is one of the country's most valuable artisanal fisheries and products are primarily exported to the United States. To promote a sustainable future for this critical fishery, Ecuador's undersecretary of fisheries resources, in collaboration with WWF, launched the Ecuador Mahi Mahi FIP in 2010.
Get Involved
Become a FIP Participant
By signing on to support a FIP you are joining forces with other leaders in the industry that seek to help conserve marine ecosystems, protect livelihoods, and increase the number of sustainable fisheries and the overall supply of sustainable seafood.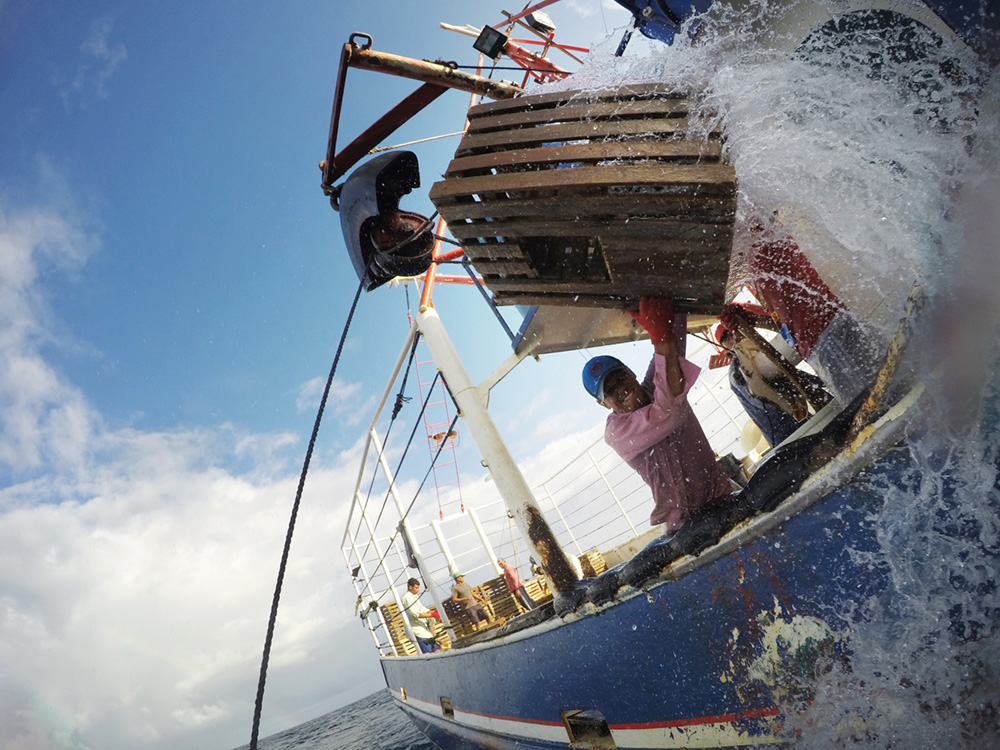 © Antonio Busiello | WWF-US