Ecuador Mahi
Entered MSC Full Assessment: February 26, 2019
FIP Stage: 5 (Improvements on the Water)
Last Updated: September 2019
After working for several years with WWF, the Ecuadorian government, and key partners on a fishery improvement project (FIP) the Ecuadorian mahi mahi fishery entered the Marine Stewardship Council (MSC) full assessment process on February 26, 2019. The full assessment process will take up to 18 months, during which time WWF will continue to provide technical support to the fishery and industry engagement by FIP participants will still be needed to ensure that all 28 MSC performance indicators meet the MSC standard.
Mahi mahi is Ecuador's largest and most socio-economically important artisanal fishery in Ecuador. The majority of the catch is exported to the United States.
This highly migratory species presents a critical challenge: the development of international management measures across countries in the eastern Pacific Ocean (EPO) to ensure that the species is fished sustainably.
Since 2010, the active involvement of FIP Stakeholders, including the Ecuadorian Ministry of Aquaculture and Fisheries (MAP) and Sub-Secretary of Fishery Resources (SRP), have driven improvements in the fishery against the MSC standard.
GOALS ACHIEVED
FIPs provide a step-by-step approach to bring fishery management practices up to the MSC standard. With support from FIP participants and FIP stakeholders, the FIP achieved several important goals that enabled it move into MSC full assessment, including:
Increasing the observer presence to cover 10 percent of the longline fleet through the implementation of the national observer program.

Reducing sea turtle bycatch with fishermen through the promotion and use of circle hooks, best handling practices, and specifically designed T-floats developed in Ecuador to reduce sea turtle capture and entanglements.

Working with Inter-American Tropical Tuna Commission scientists to develop the first-ever regional stock assessment for mahi mahi in the eastern Pacific Ocean in 2016.

Facilitating regular meetings between Ecuador and Peru to agree upon binational management measures for mahi mahi.

Establishing a monitoring program at major landing sites (by hiring fishery inspectors)  to improve enforcement across the fishery.

Official adoption by the Ecuadorian government in 2011 (updated 2013) of the National Action Plan for mahi mahi Management and Conservation.
FIP PARTICIPANTS
We encourage action across the supply chain to support FIP progress. A FIP Participant is an industry member that is part of the seafood supply chain for the FIP product and is actively engaged in supporting the FIP.
Fresh Fish del Ecuador Co. Ltda.

Mardex S.A.

Oceanfish S.A.

Propemar S.A.
How Can I Become a FIP Participant?
A FIP Participant is an industry member that is part of the seafood supply chain for the FIP product (e.g., retailers, food service providers, suppliers, manufacturers, etc.) and is actively engaged in supporting the FIP. WWF-US encourages support of FIP participants, and will acknowledge FIP Participants on our sustainable seafood website and in other communications regarding our FIP work.
To be considered by WWF-US as a FIP Participant the participating entity is expected to follow the WWF-US FIP Participant Policy.
For more information about the specific actions you can take to become a FIP participant in the Ecuador Mahi FIP, please refer to the Ecuador Mahi Industry Ask.
PROGRESS AND ACTIVITY
The Marine Stewardship Council uses 28 performance indicators to assess the sustainability of fisheries. The chart represents the percentage of indicators that would likely pass, pass with conditions for improvement, or fail upon the fishery's full assessment.
Implementing Improvements
We use a step-wise process to evaluate the fishery's performance and identify sustainability issues, and then to implement improvements and report results. Want to dive deeper into this FIP's progress on each of the MSC performance indicators? Visit FisheryProgress.org.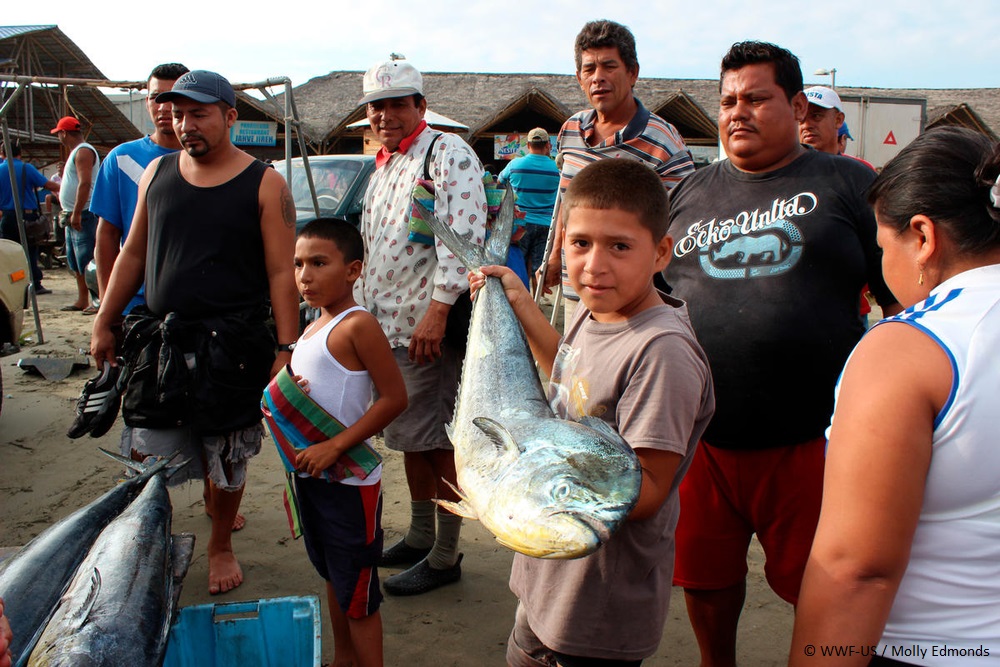 Before WWF and its partners launched the Ecuador mahi fishery improvement project, there was good reason to question the health and sustainability of this vast and productive fishery. There was no ongoing science, so neither industry nor government had an understanding of the health of Ecuador's mahi stocks. That all began to change when Pablo Guerrero walked into Jimmy Martinez' office.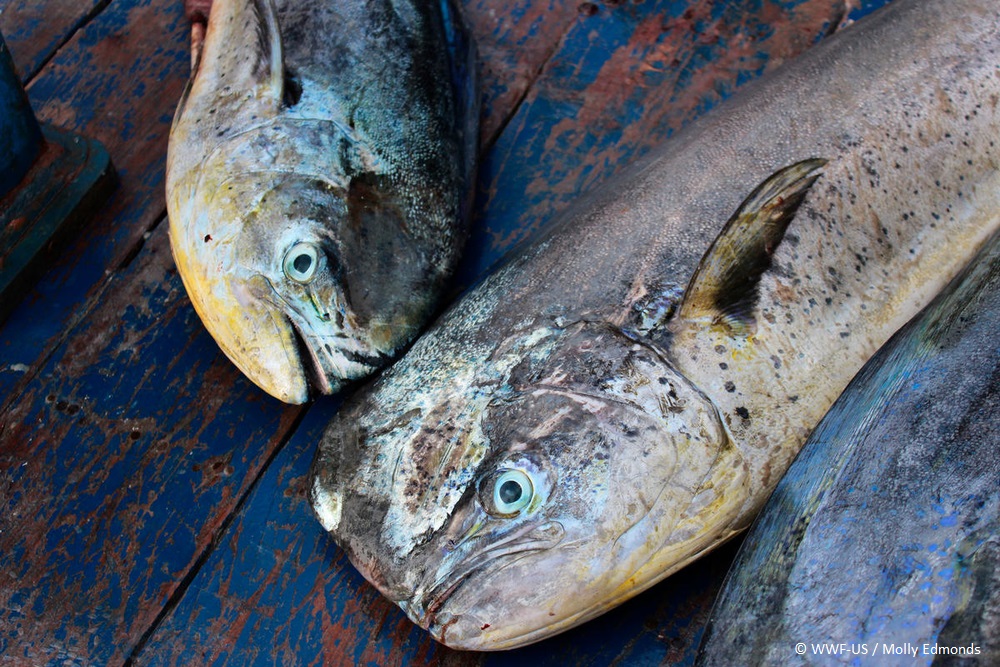 The Ecuadorian mahi mahi fishery is vast and productive, but prior to 2010, there was no ongoing science that industry and government could rely on to determine the overall health of the local fish stock. A size limit to ensure juveniles are not being caught was in place, but there was no control over its application, no meaningful monitoring program, and no management plan to back it up. To promote a sustainable future for this critical fishery, Ecuador's undersecretary of fisheries resources, in collaboration with World Wildlife Fund (WWF), launched the Ecuador Mahi Mahi Fishery Improvement Project (FIP) in 2010.
Get Involved
Become a FIP Participant
By signing on to support a FIP you are joining forces with other leaders in the industry that seek to help conserve marine ecosystems, protect livelihoods, and increase the number of sustainable fisheries and the overall supply of sustainable seafood.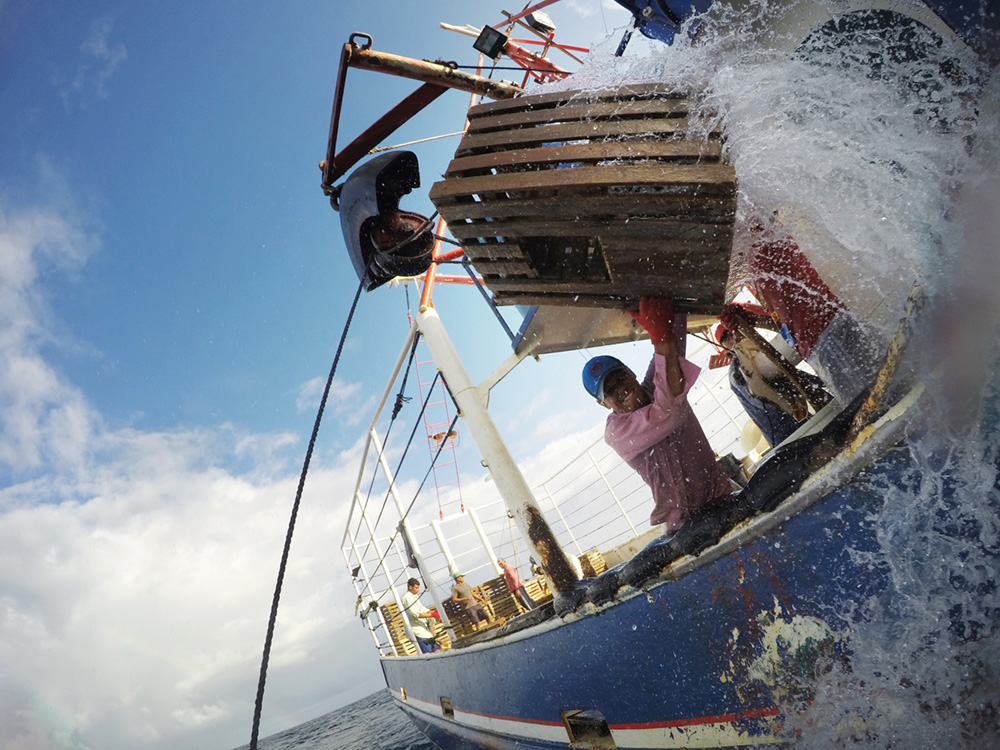 © Antonio Busiello | WWF-US