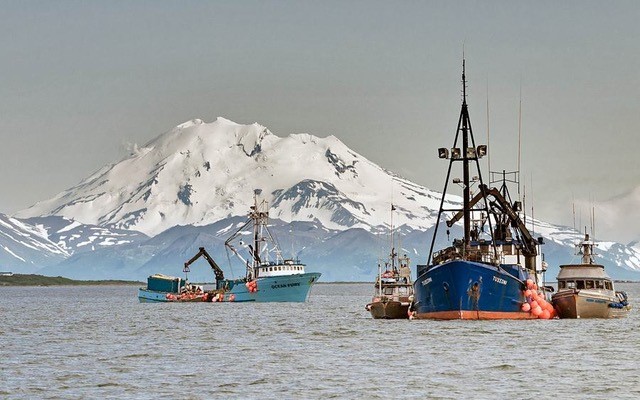 By: Elizabeth Herendeen, Guest Contributor
Bristol Bay, Alaska produces 44% of the world's sockeye salmon supply. It supports more than 14,000 fishing jobs, centuries-old indigenous communities, and hundreds of species of diverse wildlife, from bald eagles to brown bears to beluga whales.
It's also a model fishery, managed sustainably by fishermen who understand that it's in their long-term economic, social, and environmental interests to protect this valuable resource. Unfortunately, looming clouds on the horizon signal rough seas ahead for Bristol Bay's salmon fishery.
For more than a decade, mining interests have been pushing for an open-pit gold and copper mine, called Pebble Mine, in the pristine headwaters of Bristol Bay. In 2014, after years of scientific research and input from regional stakeholders, the Environmental Protection Agency used its authority under the Clean Water Act and proactively restricted the Pebble Mine's development. The EPA's scientific assessment concluded that large-scale mining in the watershed would pose "catastrophic" risks to Bristol Bay's salmon stocks, ecosystem, native culture, and wildlife. Local communities, fishermen, and businesses celebrated the EPA's protection of Bristol Bay, but their victory was short-lived; the Pebble Limited Partnership immediately sued the EPA, preventing the agency from finalizing its proposed mining restrictions.
The Pebble Mine quickly regained momentum after the election of President Trump. In May 2017, the EPA reached a settlement agreement with Pebble, agreeing to not use its authority under the Clean Water Act to restrict mining in Bristol Bay and to reconsider its Obama-era proposed protections. With this shift, the Pebble Limited Partnership submitted its permit application to the U.S. Army Corps of Engineers in December 2017, initiating the federal permitting process.
Then, in January 2018, after talking with stakeholders and reviewing more than 1 million public comments, EPA Administrator Scott Pruitt announced that the EPA would not reverse its proposed protections in Bristol Bay. Yet, while Administrator Pruitt upheld the EPA's conclusion that mining threatens Bristol Bay's salmon populations, his announcement does not prevent the Pebble Mine from moving forward due to EPA's settlement agreement with Pebble in 2017. Therefore, the future of Bristol Bay's salmon fishery remains in limbo as Pebble's permitting process advances.
Despite all of these developments over the last year, one thing has not changed: the unprecedented alliance of Alaska Native communities, commercial fishermen, sport fishermen, seafood processors, chefs, business owners, conservationists, and others working together to protect Bristol Bay's salmon fishery from the Pebble Mine. In fact, these allegiances are stronger than ever, and Pebble's recent momentum has prompted the formation of a new national coalition: Businesses for Bristol Bay. Bringing together diverse companies and sectors, Businesses for Bristol Bay is sending a clear message to the Trump Administration that the Pebble Mine threatens America's jobs, food security, and economy. Already, several hundred businesses have joined, including Publix, Hy-Vee, Wegmans, New Seasons Market, Tom Douglas Seattle Kitchen, Ocean Beauty Seafoods, Orca Bay Seafoods, Orvis, Patagonia, and YETI.
"Businesses have a critical role to play in the effort to save Bristol Bay's salmon fishery," says Dave Aplin, interim managing director of WWF's arctic program. "The current Administration is looking to business stakeholders for input as they weigh their next steps; we need businesses throughout the seafood supply chain to engage and share why Bristol Bay's protection is paramount to our nation's seafood marketplace. Businesses can help ensure that Bristol Bay gets the protection that it deserves."
While it is hard to know what the future holds for Bristol Bay, right now it is clear that our nation has an important opportunity to protect our last great wild salmon fishery. And by saving Bristol Bay, we are saving the future of a sustainable fishery and the people, businesses, and wildlife that depend on it.
For more about Businesses for Bristol Bay and to join the coalition, go to www.b4bb.org.
Elizabeth Herendeen is Marketplace Manager for SalmonState.