Overview
As the world's largest conservation organization working in over 100 countries, World Wildlife Fund (WWF) combines its scientific foundation and global reach to help drive more sustainable food systems that conserve nature and feed humanity.
WWF works with global food companies to drive long-term, transformational change to source more sustainable products and actively engage current supply chains to drive these efforts. For more than 20 years, WWF has worked with fishing and farming industries, governments and local communities around the world to safeguard marine wildlife, the natural environment, and the livelihoods of people who depend on the oceans and coastal environments for their wellbeing.
Today, we bring this expertise to bear on our 100+ partnerships with the industry's largest traders, processors, retailers, hoteliers, restaurants, and foodservice companies.
How to Build a Sustainable, Responsible and Traceable Seafood Commitment
WWF recommends companies commit to a comprehensive, multi-faceted approach to source sustainable, responsible, and traceable seafood by engaging and transitioning fisheries and farms to improve their management and production practices.
1. Source from Sustainable, Responsible Seafood Certifications
Source sustainable, responsible and traceable seafood certified by third-parties to standards of the Marine Stewardship Council (MSC) and Aquaculture Stewardship Council (ASC).
Read more

For wild-caught fisheries, WWF supports the Marine Stewardship Council (MSC) as the world's leading certification program because of its thorough environmental criteria, credible certification procedures, and traceability requirements. MSC is an independent global non-profit organization that sets standards for sustainable wild-caught fisheries and traceable supply chains.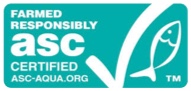 For aquaculture, WWF supports the Aquaculture Stewardship Council (ASC) as the most credible aquaculture certification program. ASC is an independent, global non-profit organization that manages standards for environmentally and socially responsible fish farming. Farms and companies are third-party certified against those standards through ASC certification and ASC Chain of Custody (CoC) certification respectively.
For more information visit:
Read more
Fishery and aquaculture improvement projects bring together fishers and farmers, community leaders, industry, researchers, government, and non-governmental organizations to ensure solutions comprehensively address environmental, social and economic issues. WWF directly implements FIPs and AIPs globally to create measurable change and ensure the long-term sustainability of wild-caught and farm-raised seafood.
3. Verify Traceable and Legal Seafood
Ensure traceable and legal seafood by tracking products through supply chains back to the fishing vessel, farm, and feed source.
Read more
WWF works with companies to help ensure compliance with national and international laws and regulations. To verify sustainable and responsible practices, and to reduce risk – including exposure to legal, financial and reputational risks associated with illegal labor and production – seafood companies should have systems in place to trace their products through their supply chains back to the fishing vessel, farming location, and feed source. Implementing robust traceability systems in supply chains makes it possible to obtain reliable information about many of the fundamental characteristics and qualities of seafood products. WWF's traceability principles can be used as a benchmark for a variety of traceability systems. For certified product, WWF recommends companies and their suppliers, at a minimum, obtain MSC and ASC Chain of Custody (CoC) certification, to establish a verifiable connection back to a sustainable fishery or responsible farm.
4. Ensure Habitat Conversion-Free Seafood
Source aquaculture products that do not themselves contribute to deforestation and habitat loss (e.g., via pond development) or use feed (e.g., soy, palm oil) that contributes to habitat loss.
Read more
Unsustainable agriculture and aquaculture practices present immediate environmental, social and economic threats. The conversion of forests and mangroves for ponds harms wildlife, pollutes water and heats the atmosphere. Companies should work to remove habitat conversion from their supply chains, including feed—and can start by sourcing from ASC-certified farms and supporting aquaculture improvement projects. ASC's shrimp standard is the only one that prohibits habitat conversion.
5. Ban Procurement of Endangered Species
Ban the procurement of endangered species identified at a minimum as IUCN Endangered and Critically Endangered and listed on CITES Appendix I.
Read more
WWF's original mission has been to protect endangered species. Buying and selling such species contributes to their extinction; it can also have significant legal and reputational consequences.
WWF identifies species of concern using IUCN and CITES assessments:
The IUCN Red List of Threatened Species is the world's most comprehensive inventory of the global conservation status of biological species where species are categorized from greatest extinction risk to least concern.
The Convention on International Trade in Endangered Species of Flora and Fauna, or CITES, is a Global agreement between governments to follow rules to monitor, regulate or ban international trade in species under threat.
WWF has identified additional endangered species that have not been assessed by IUCN or listed on CITES that are typically relevant to specific regions around the world. On a case-by-case basis, WWF may recommend an MSC or ASC certified option even if the species is listed as endangered.
6. Reduce Seafood Waste and Loss
Set targets for reducing and eliminating seafood waste and raw material loss from source through point-of-sale. Track and measure waste and loss within operations and influence other companies in supply chains to do the same.
Read more
By eliminating seafood loss and waste throughout their supply chains, companies can effectively increase productivity, increase seafood availability, reduce pressure on natural resources, and decrease price volatility throughout the seafood supply chain.
Globally, an estimated 35% of seafood is lost or wasted. Regionally, this ranges from 30% to upwards of 50% and is significantly higher in developed countries, with as much as 47% of seafood lost or wasted in the U.S.
WWF is developing new strategies with industry leaders to reduce post-harvest loss of seafood throughout the supply chain, while recommending that companies assess and address any loss and waste within their operations and engage their suppliers to do the same.
How WWF Partners with Companies
To achieve the recommendations above, WWF engages with companies in the following ways to help them source 100% sustainable, responsible and traceable seafood and to inspire broader change in the sector.
Direct Partnerships
WWF strives to work with a company's existing supply chain to drive improvements on the ground and on the water to increase the overall sustainability of the industry.
To evaluate the sustainability of their current supply chain and highlight risks and opportunities.
Set and announce time-bound goals and develop internal timeline with key milestones
Internal and External Outreach
Set and announce time-bound goals and develop internal timeline with key milestones
Education and Awareness Building
Assisting with both internal and external communication on sustainable seafood goals, including employee training materials, chef videos, webinars, and identification of and involvement in precompetitive platforms
Pre-competitive Platforms
WWF develops pre-competitive platforms to leverage cumulative demand for more sustainable and responsible seafood in key markets and targeted inititatives around the world. This is executed through strategically relevent platforms such as regional supply chain engagement efforts, roundtables, business forums, workshops, and sustainable seafood campaigns. WWF executes private sector convenings in several international markers including China, Japan, Singapore, Australia, India, South Africa, Brazil, and Mexico. WWF US is directly engaging over 25 pre-competitive seafood platforms.
WWF works with several multi-stakeholder, pre-competitive traceability initiatives like the Global Dialogue for Seafood Traceability and the Seafood Task Force to scale solutions across the industry.
Get Involved. Get Started.