Indian Ocean Tuna Purse Seine
OPAGAC
FIP Stage: 4 (Improvements in Fishing Practices or Fishery Management)
Last Updated: May 2020
In the tropical waters of the Indian Ocean, OPAGAC represents 15 purse seine vessels, catching approximately 14% the region's total tropical tuna catch. Most of the fleet's tuna is processed in regional facilities with most of the canned product exported to markets in Europe.
The management measures adopted by Indian Ocean Tuna Commission (IOTC) have not been effective to maintain the catches of tropical tuna stocks at the agreed levels. As an example, there is only one harvest control rule in place for skipjack, while yellowfin tuna is currently overfished and overfishing is occurring, despite the rebuilding plan adopted by the Commission. There are also problems with data available for some important fleets (e.g. Indonesia, Pakistan, India, Sri Lanka).
The active involvement of FIP Stakeholders, including Indian Ocean tuna – purse seine (SIOTI), International Seafood Sustainability Foundation (ISSF), Areas Beyond National Jurisdiction (ABNJ), Pew Charitable Trusts, AZTI, the Spanish Institute of Oceanography (IEO) and the Spanish Secretary-General for Fisheries (SGP), drives improvements against the Marine Stewardship Council (MSC) standard.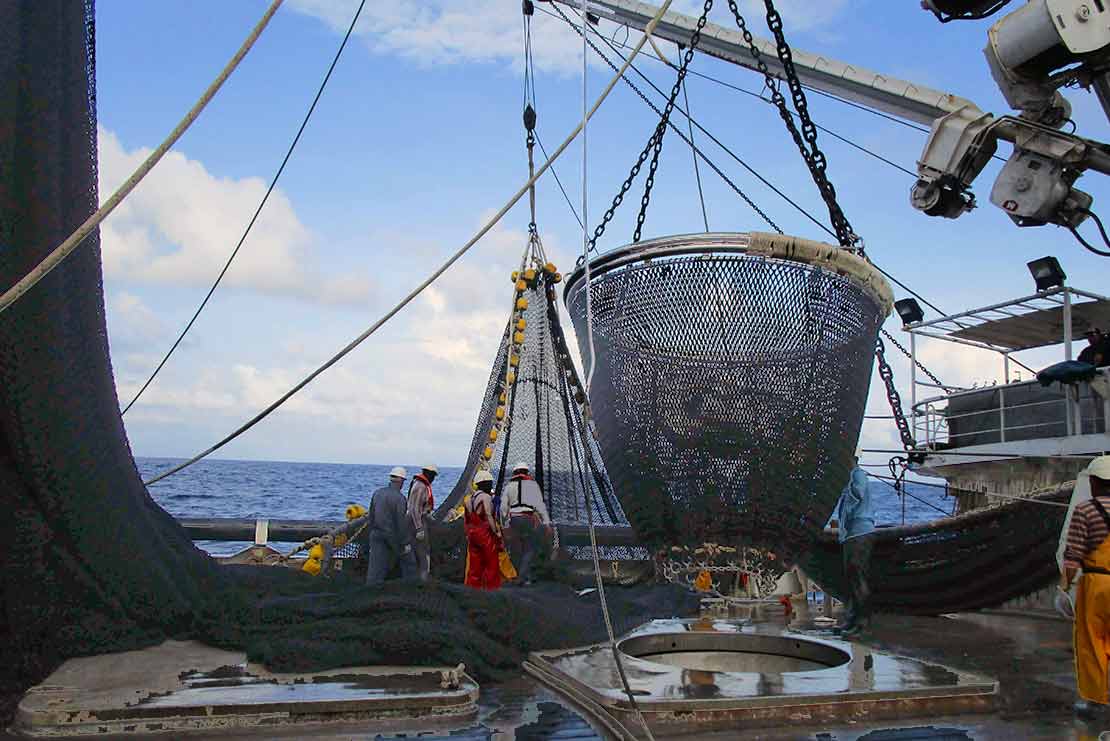 © OPAGAC
WHAT WE ARE DOING
FIP efforts address governance, fishing practices, and environmental impacts of the fishery so that it can meet the MSC standard. This work is steered by FIP participants and FIP stakeholders and includes:
Promoting and assisting improved management of tropical tuna stocks by IOTC, through adoption of reference points and Harvest Control Rules for those stocks;

Promoting improved governance at both the Regional Fishery Management Organization (RFMO) and flag state level, in particular better compliance with RFMO requirements and measures;

Promoting research to better evaluate the impacts of the tuna purse seine fishery on both target stocks and the ecosystem (e.g., impacts of Fishing Aggregating Devices (FADs));

Implementing actions to reduce, minimize, and mitigate any potential detrimental effects that the purse seine fishery has on the ecosystem (e.g., by deploying non-entangling and biodegradable FADs).
FIP PARTICIPANTS
We encourage action across the supply chain to support FIP progress. A FIP Participant is an industry member that is part of the seafood supply chain for the FIP product and is actively engaged in supporting the FIP.
PROGRESS AND ACTIVITY
The Marine Stewardship Council uses 28 performance indicators to assess the sustainability of fisheries. The chart represents the percentage of indicators that would likely pass, pass with conditions for improvement, or fail upon the fishery's full assessment.
Indian Ocean Tropical Tuna (SIOTI) FIP Status
Implementing Improvements
We use a step-wise process to evaluate the fishery's performance and identify sustainability issues, and then to implement improvements and report results. Want to dive deeper into this FIP's progress on each of the MSC performance indicators? Visit FisheryProgress.org.
FIP OUTCOMES TO DATE
The fishery has achieved the following impacts through improved practices and management
Release of OPAGACs FAD data to AZTI for analysis with the goal of developing purse seine abundance indices for tropical tunas, which if possible, would be a major step forward for stock assessments;

Evaluation and promotion of alternative management IOTC could implement to successfully maintain tropical tuna stocks around target reference points;

Design, support and funding of the FAD-Watch Project in Seychelles, carried out by the Island Conservation Society, Islands Development Company and the SFA: the world's first initiative for coastal recovery, quantification and characterization of drifting FAD beaching events;

In the last Working Party on Tropical Tuna (WPTT21), OPAGAC presented a study to explore how full seasonal closures (monthly measures), where vessels remain in port, may better assist multi-species fisheries, such as purse seine, in achieving the levels of catch reduction sought by the IOTC;

During that same WPTT IOTC meeting, a novel index of abundance of juvenile yellowfin tuna in the Indian Ocean derived from echosounder buoys for the period 2010-2018, with the aim of contributing to the 2019 assessment of this stock. Again, this is a direct result from OPAGAC releasing its FAD data;

Through collaboration with WWF, the FIP has encouraged and worked on the adoption of new measures for previously weakly managed species groups that culminated in the adoption of Resolution 19/03 on the Conservation of Mobulid Rays;

OPAGAC participated in the BIOFAD project, the first ocean-scale initiative to test biodegradable FADs.
Get FIP Updates Delivered Straight to Your Inbox
October 3, 2019
Do you want to receive monthly updates on how your favorite FIPs are coming along? FisheryProgress.org subscribers can use the "Follow This FIP" tool to receive monthly emails from FisheryProgress highlighting major changes in the improvement projects they choose to follow.