Peru Jumbo Flying Squid
FIP Stage: 4 (FIP Implementation)
Progress Rating: A (Advanced Progress)
Start Date: February 2018
Last Updated: March 2022
The Jumbo squid fishery is the largest artisanal fishery in Peru in terms of landings and has the highest socioeconomic importance due to the number of fishers involved. More than 30% of the catches are exported to US and EU markets.
Critical issues challenging this fishery include the high number of unlicensed vessels targeting squid, and lack of effective national and international management of this highly migratory species.
The active involvement of FIP Stakeholders, including Peruvian authorities, the National Society of Industries (SNI), and Spanish, French, and US seafood businesses, as well as FIP Participants drives improvements against the Marine Stewardship Council standard.
WHAT WE ARE DOING
FIP efforts address governance, fishing practices, and environmental impacts of the fishery so that it can meet the MSC standard. This work is steered by FIP participants and FIP stakeholders and includes:
Improving monitoring procedures of the fleet to improve the collection of data to inform the stock assessment.

Establishing and strengthening fishing cooperatives and working with them to obtain fishing licenses and improve their collection of catch data by piloting a new mobile electronic catch documentation system.

Working with the Peruvian government and the South Pacific Regional Fishery Management Organization (SPRFMO) to improve the management and governance of the fishery.
FIP PARTICIPANTS
We encourage action across the supply chain to support FIP progress. A FIP Participant is an industry member that is part of the seafood supply chain for the FIP product and is actively engaged in supporting the FIP.
How Can I Become a FIP Participant?
A FIP Participant is an industry member that is part of the seafood supply chain for the FIP product (e.g., retailers, food service providers, suppliers, manufacturers, etc.) and is actively engaged in supporting the FIP. WWF-US encourages support of FIP participants, and will acknowledge FIP Participants on our sustainable seafood website and in other communications regarding our FIP work.
To be considered by WWF-US as a FIP Participant the participating entity is expected to follow the WWF-US FIP Participant Policy.
For more information about what a FIP is and how you can play a role, please contact info@nullseafoodsustainability.org.
PROGRESS AND ACTIVITY
The Marine Stewardship Council uses 28 performance indicators to assess the sustainability of fisheries. The chart represents the percentage of indicators that would likely pass, pass with conditions for improvement, or fail upon the fishery's full assessment.
Peru Jumbo Flying Squid FIP Status
Implementing Improvements
We use a step-wise process to evaluate the fishery's performance and identify sustainability issues, and then to implement improvements and report results. Want to dive deeper into this FIP's progress on each of the MSC performance indicators? Visit FisheryProgress.org.
FIP OUTCOMES TO DATE
The fishery has achieved the following impacts through improved practices and management
Over 800 fishing permits have been issued to boat owners within fishing cooperatives, and the government of Peru expects to issue more than 3,000 additional permits to individual boat owners over the next few years

A new framework for the jumbo squid stock assessment has been developed by the Peruvian Institute of the Sea for Peruvian waters which was submitted to the Scientific Committee of the SPRFMO with potential to be expanded to the wider SPRFMO Convention Area.

Over 200 fishers from three fishing cooperatives that have obtained their permits are registering their catches through TrazApp, an electronic catch documentation system developed participatively with them and WWF, as part of their obligations to maintain their fishing permits.
Peru government cracks down on illegal fishing to protect the country's squid fishery
July 12, 2018
While most of the fish caught and traded in Peru may be done so legally, over 60% of vessels in Peru's artisanal mahi and squid fleet are unlicensed and unregistered, making it difficult to verify the products' provenance.
To address this issue, WWF has been working with the government for the past two years to implement a pilot program to create and strengthen fishing cooperatives which will reduce illegal, unregulated, and unreported (IUU) fishing.
Get Involved
Become a FIP Participant
By signing on to support a FIP you are joining forces with other leaders in the industry that seek to help conserve marine ecosystems, protect livelihoods, and increase the number of sustainable fisheries and the overall supply of sustainable seafood.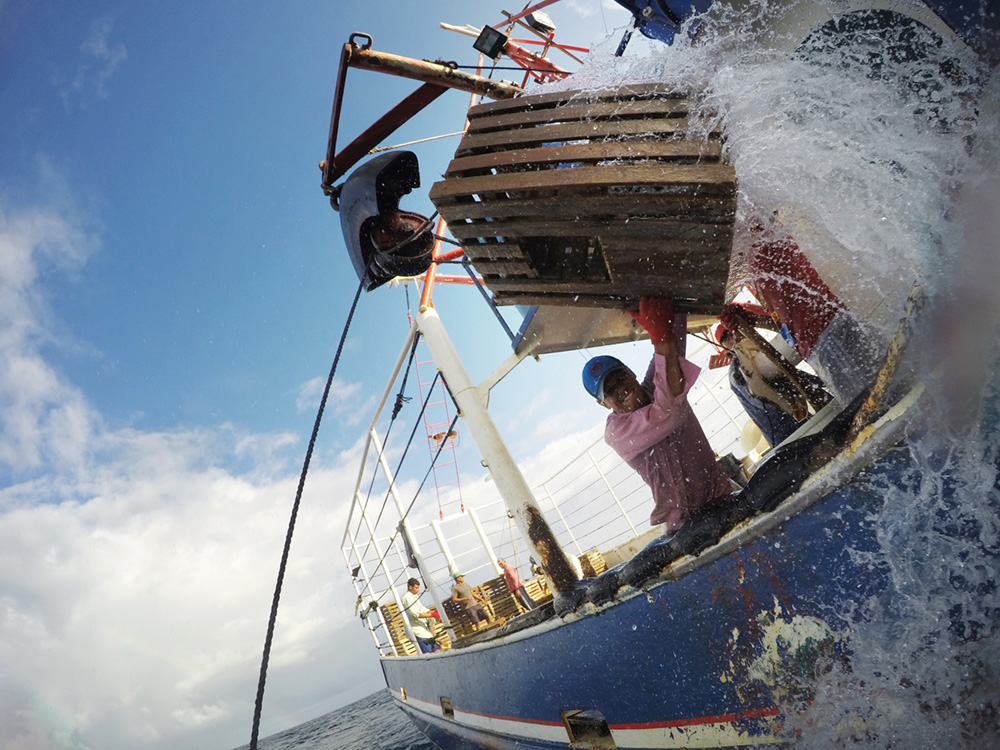 © Antonio Busiello | WWF-US