Peru Mahi
FIP Stage: 4 (Improvements in Fishing Practices or Fishery Management)
Progress Rating: C (Some Recent Progress)
Start Date: November 2013
Last Updated: September 2023
The Peruvian mahi mahi fishery includes over 4,200 fishermen and is one of the country's most important artisanal fisheries. Peru is the leading mahi mahi producer worldwide, with over 70% of its exports going to the United States.
Critical issues challenging this fishery include the high number of unlicensed vessels in the fishery, and lack of effective national and international management of mahi mahi, a highly migratory species. The fishery also needs additional data on how fishing interacts with other species including endangered sea turtles and sharks.
The active involvement of FIP Stakeholders, including the Ministry of Production and Peruvian Institute of the Sea, and FIP Participants drives improvements against the Marine Stewardship Council standard.
WHAT WE ARE DOING
FIP efforts address governance, fishing practices, and environmental impacts of the fishery so that it can meet the MSC standard. This work is steered by FIP Participants and FIP stakeholders and includes:
Establishing and strengthening fishing cooperatives and working with them to obtain fishing licenses and improve their collection of catch data.

Developing and piloting a mobile electronic catch data system with fishers to record their catch, and developing a full electronic traceability system for mahi mahi in Peru.

Working to reduce sea turtle and seabird mortality in the mahi mahi fishery by training fishers to better handle and release turtles and seabirds entangled in fishing gear.

Working with Inter-American Tropical Tuna Commission scientists to develop recommended reference points and harvest control rules to help manage the mahi mahi fisheries in the eastern Pacific Ocean.

Facilitating regular meetings between Ecuador and Peru to agree upon binational management measures for mahi mahi.
FIP PARTICIPANTS
We encourage action across the supply chain to support FIP progress. A FIP Participant is an industry member that is part of the seafood supply chain for the FIP product and is actively engaged in supporting the FIP.
Sociedad Exportadora T&A Cordova S.A.C.

Spring Valley Fruit S.A.C. and Agropesca Peru S.A.C.
How Can I Become a FIP Participant?
A FIP Participant is an industry member that is part of the seafood supply chain for the FIP product (e.g., retailers, food service providers, suppliers, manufacturers, etc.) and is actively engaged in supporting the FIP. WWF-US encourages support of FIP participants, and will acknowledge FIP Participants on our sustainable seafood website and in other communications regarding our FIP work.
To be considered by WWF-US as a FIP Participant the participating entity is expected to follow the WWF-US FIP Participant Policy.
For more information about what a FIP is and how you can play a role, please contact info@nullseafoodsustainability.org.
PROGRESS AND ACTIVITY
The Marine Stewardship Council uses 28 performance indicators to assess the sustainability of fisheries. The chart represents the percentage of indicators that would likely pass, pass with conditions for improvement, or fail upon the fishery's full assessment.
Peru Mahi Project FIP Status
Implementing Improvements
We use a step-wise process to evaluate the fishery's performance and identify sustainability issues, and then to implement improvements and report results. Want to dive deeper into this FIP's progress on each of the MSC performance indicators? Visit FisheryProgress.org.
FIP OUTCOMES TO DATE
The fishery has achieved the following impacts through improved practices and management
In May 2016 Inter American Tropical Tuna Commission (IATTC) scientists developed the first-ever exploratory stock assessment for mahi mahi in the eastern Pacific Ocean using data from Ecuador and Peru.

In July 2014 a seasonal close season was implemented for the Peruvian mahi mahi fishery (Ministerial Resolution N° 245-2014-PRODUCE). The fishing season for the mahi mahi has been established between the 1st of October and 30th of April of each year.

In June 2016 the Peruvian government published its National Action Plan for the Conservation and Management of Mahi Mahi in Peru.

More than 500 vessels in Piura, representing approximately 20% of the mahi mahi fleet, received fishing permits in June 2018, reducing the amount of unreported fishing.

Over 700 Peruvian artisanal fishers have been trained on the correct handling and safe release of marine turtles in longline fisheries.
US businesses are backing Peru's mahi mahi fishery in a big way. The Peruvian government recently received a letter from 26 major US-based seafood buyers and importers pledging their support for the Peruvian mahi mahi fishery improvement project and urged officials to actively participate in the advancement of the fishery toward the Marine Stewardship Council standard.
Fisheries and farms across the globe support the livelihoods of 59.6 million people who rely on fishing and fishing related activities for income, and about 3.2 billion people who depend on fish as an important part of their diet. But illegal fishing is threatening the food supply of coastal communities as fish populations decline due to overfishing in areas fishers are not permitted to access. Fortunately, in Peru—one of the world's leading producers of mahi mahi and squid—the government is taking action to clamp down on illegal fishing.
Get Involved
Become a FIP Participant
By signing on to support a FIP you are joining forces with other leaders in the industry that seek to help conserve marine ecosystems, protect livelihoods, and increase the number of sustainable fisheries and the overall supply of sustainable seafood.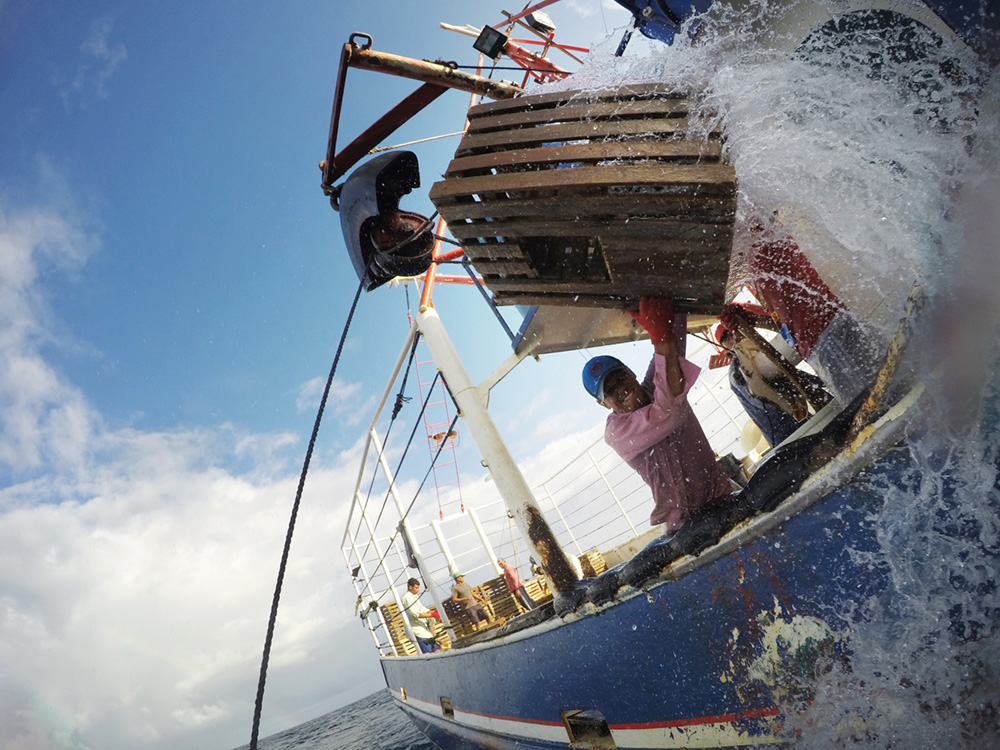 © Antonio Busiello | WWF-US