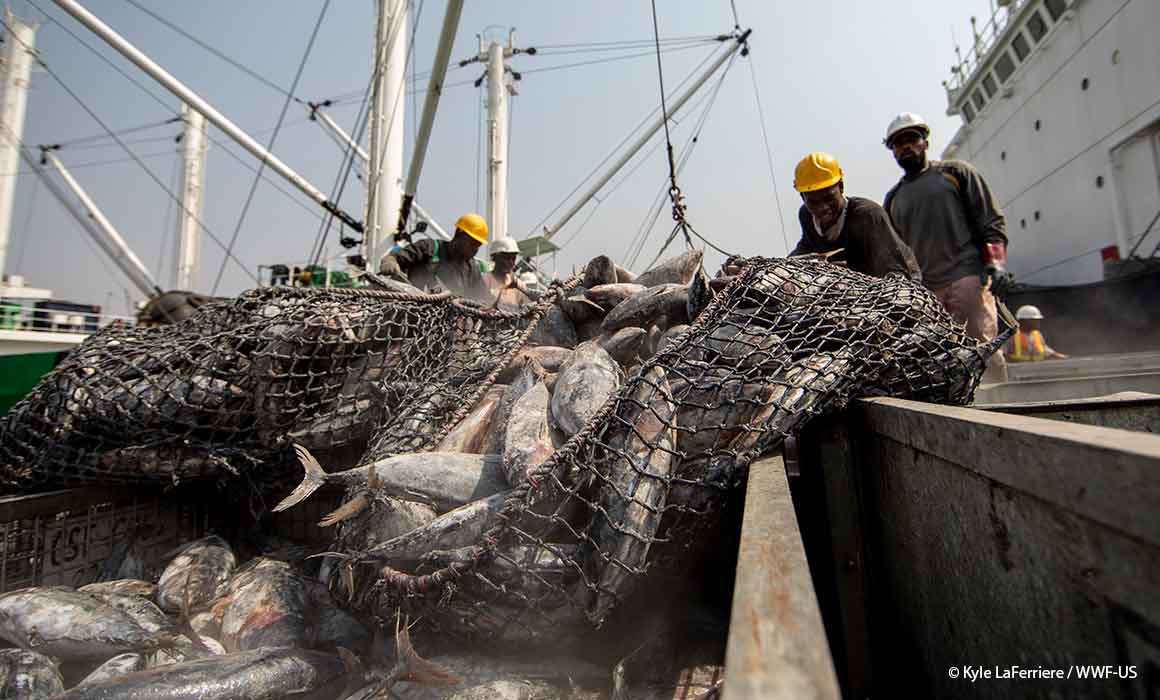 Tunas are among the most commercially valuable fish on the planet and support small-scale and industrial fishing alike. Globally, fishers gather around 8 million metric tons annually at a dockside value of $43 billion. Tuna fisheries support people across the globe not only by enriching coastal communities with jobs, but also by providing an affordable source of protein and nutrients. However, this source of prosperity and security for so many coastal communities is at risk as many of the world's valuable tuna species face serious threats.
The sustainability of tuna fisheries is a concern, driven by the urgency to address overfishing, and illegal, unreported, and unregulated (IUU) fishing practices and ecosystem impacts. The conservation and management of tuna has not evolved to keep pace with increased capacity in tuna fisheries over the years, including larger, faster vessels that can operate further offshore for longer periods of time. The time to scale up tuna sustainability efforts is now.  
Influencing Industry to Urgently Adopt Tuna Conservation Measures
For over 15 years, WWF has accelerated the conservation of tuna stocks and the broader ecosystems they depend on by working across the tuna value chain. In collaboration with WWF, industry members have effectively managed and adopted best fishing practices that will contribute to maintaining healthy tuna stocks. Results include reducing IUU on vessels, decreasing bycatch, and collecting better data that facilitates improved science.
All this effort has helped lead to better management and an increase in the health of some tuna stocks over the past ten years. However, there is still a great deal of work to be done – particularly on rebuilding of yellowfin tuna in the Indian Ocean, on addressing lost and abandoned fishing gear, on adoption of biodegradable fish aggregating devices (FADs), on 100% observer coverage for all industrial fleets and on eliminating human rights abuses at sea.
Driving Accountability through 100% Observer Monitoring
In many tuna fisheries around the world, the lack of independent monitoring of fishing activity means there is much we cannot see – including many known conservation and compliance risks such as illegal fishing, misreported or unreported catch, and bycatch of endangered, threatened and protected species. This lack of transparency creates risk to fish stocks, to fisheries, to the people who work on fishing vessels, and to companies that purchase tuna.
Both industry and regional fisheries management organizations have the power to reduce these risks by requiring 100% observer coverage – human and/or electronic – on industrial tuna fishing vessels. 100% observer coverage helps mitigate the conservation and compliance issues that put tuna stocks, ocean ecosystems, fishers and tuna supply chains at risk. Some fishing fleets are currently required to have 100% human observer coverage, and camera systems allow for expansion of this requirement to all industrial tuna fleets. Many tuna fisheries have tested camera systems, and all regional bodies should adopt electronic monitoring standards to enable achieving 100% observer coverage in all industrial tuna fleets by 2025.
Enhanced Standards and Transparency: A Catalyst for Success
Last month, Walmart announced stronger sourcing policies for tuna aimed at bolstering transparency and data gathering within the tuna supply chain. These enhanced policies, applicable to Walmart U.S., Walmart Canada and Sam's Club U.S. suppliers, provide a compelling incentive for the industry to navigate towards long-term success.
As part of Walmart's seafood sourcing policy, tuna suppliers will be required[1] to exclusively source from vessels equipped with 100% observer monitoring by 2027. Whether through human observers or advanced electronic monitoring, observer programs serve as crucial tools for driving accountability and responsible fishing practices. These programs provide invaluable insights into fishing activities, including bycatch, that can help identify opportunities to improve fishery management, reduce unintended catch, and address human rights concerns. Increased transparency can also provide a powerful incentive for at-sea compliance with environmental and social requirements.

The Power of Collaboration and Innovation
To support the industry's transition towards more sustainable tuna, collaboration between businesses sourcing tuna products, leading conservation organizations, such as WWF and the tuna industry itself is paramount. Leveraging technological advancements in electronic monitoring and related tools, such as artificial intelligence (AI), businesses can improve transparency throughout the supply chain. This collaboration benefits the environment, ocean ecosystems, brand reputation, and consumer trust, which in turn, can help drive shared value.

This is the time for businesses operating in the tuna industry to embrace more sustainable practices and seize the opportunities that lie ahead. Walmart's commitment to improved transparency and data collection presents a compelling example of how businesses can help improve the social and environmental sustainability of tuna supply chains, while providing their customers with quality products that align with their values. Together, through collaboration and innovation, we can promote a prosperous future for the tuna industry while safeguarding the environment for future generations.
---
[1] Requirement exclusively applies to suppliers for Walmart U.S., Sam's Club U.S., and Walmart Canada. Requirement is subject to price, availability, quality, customer demand, and applicable regulatory obligations.