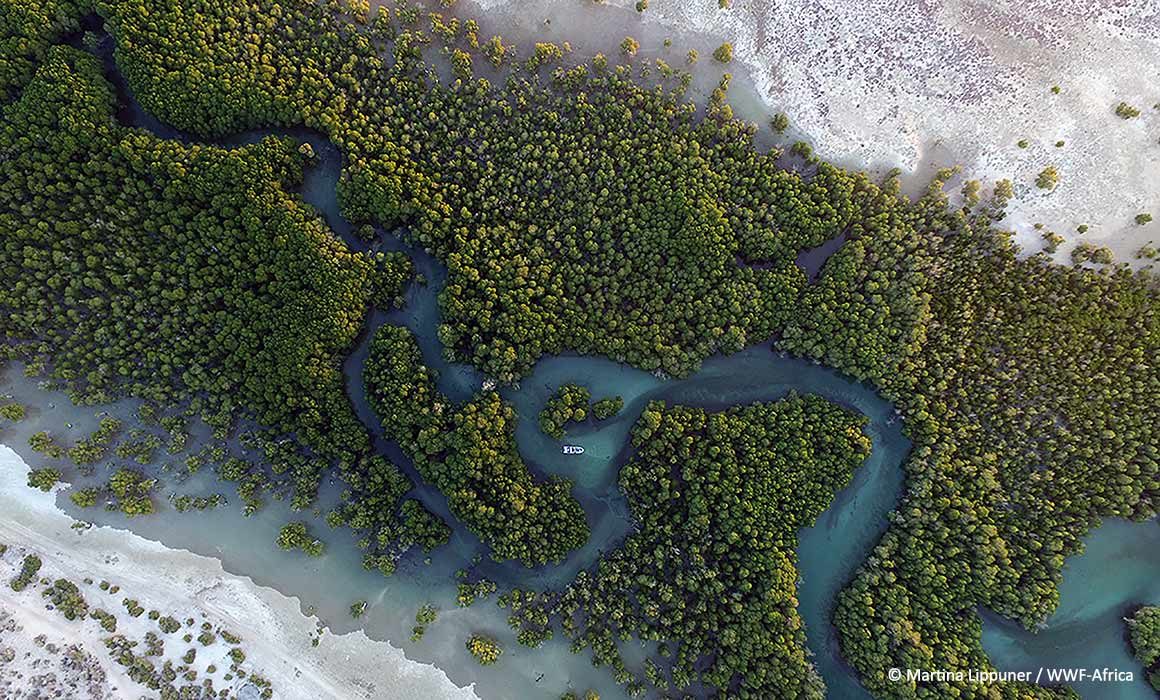 Mangroves are semi-aquatic plants that make up some of the most dynamic and complex ecosystems on our planet. Found along two-thirds of the planet's tropical coastlines, they are an intricate network bridging life between land and sea. Mangrove forests are host to many rare, threatened, and iconic species and home to millions of people who depend on coastal ecosystems for food and livelihoods.

But this critical ecosystem is disappearing quickly. Since 1940, approximately half of global mangrove cover has been lost. During the 1970s-1990s, especially high rates of land conversion for shrimp farming may be accountable for 30-50% of this habitat loss.
Food production, including aquaculture, is one of the biggest drivers of habitat conversion. Although clearing mangroves is illegal in many countries, it remains a threat in many areas. Conversion for shrimp farming has resulted in an estimated 238,319 hectares (ha) of mangroves over the last two decades in key producing countries. But there is clear potential to stop this trend and halt conversion by leveraging private sector influence. There are concrete steps that businesses can take to ensure farmed shrimp products come from responsible sources and have minimal negative impacts on the environment.
"Farmed shrimp has had an incredibly negative record on social and environmental issues in many countries where they operate, but much of the industry has known for several decades that there is a stronger business case for farms to be consolidated or created outside of mangrove ecosystems where more shrimp can be produced with less area and less damage to coastal ecosystems," notes Aaron McNevin, WWF's Global Network Lead for Aquaculture. For the past decade, WWF has been working with farmers, governments, and global business partners to mitigate the impact of the farmed seafood industry on tropical and sub-tropical wetlands.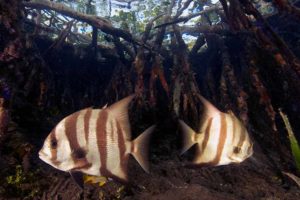 Environmental and Economic Champions
Many rare and threatened species, such as tigers, dolphins, and sea turtles, along with ten percent of all currently-known fish species, inhabit these coastal intertidal forests for some part of their life. Mangroves also provide many valuable ecological functions, including filtering water, protecting shores from erosion, and serving as a natural barrier against storms. They also store three to four times as much carbon as tropical forests and may be one of our best defenses against a changing climate.
Studies have found that mangroves provide livelihoods and generate incomes for over 100 million people living within a six mile radius of mangrove forests. A UN report estimated that mangrove ecosystems are worth several hundreds to a thousand dollars per hectare per year in goods, coastal protection, and cultural services for countries of the global south, especially those in Southeast Asia and Central America.
"Mangrove ecosystems should be conserved because of their immense ecological value, and they can be used sustainably to provide various food items and medicinal products for local communities. The value of mangroves to local communities far exceeds the income that can be derived by disrupting mangrove areas to install shrimp farms."

Dr. Claude E. Boyd, Professor at Auburn University.
A Challenge and Opportunity for Business
More than half of global seafood today comes from aquaculture. That quantity will only increase as global population and demand for nutritious food rises, and global fisheries continue to be fished to their capacity. Farmed shrimp is consistently one of the most consumed seafood commodities worldwide. The United States alone imported around 700 thousand metric tons of shrimp in 2018. The role of importers and retailers is key in mitigating the impact of food systems on the environment by investing in more responsibly farmed shrimp.
Farmed shrimp is often produced in complex, fragmented, and opaque supply chains that obscure the full human and environmental effects of production. In addition to driving loss of habitats, some products have been linked to forced labor practices and illicit fishing by vessels that provide feed for the shrimp farms. This lack of traceability and transparency can expose companies to reputational, legal, social, and regulatory risks.
WWF has been actively working with industry to drive sector-wide change for the benefit of people, companies, and our planet's resources. There is a clear pathway for companies to reduce environmental and social risk and drive more responsible shrimp farming: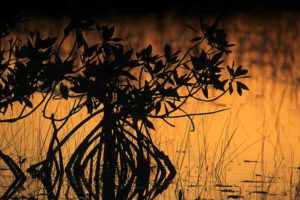 Commit to source farmed shrimp through supply chains that are traceable to the farm's geographic location and are free from deforestation or conversion of natural habitat.
Increase sourcing of farmed shrimp products that are certified from the most credible, third party verified seafood standards like Aquaculture Stewardship Council (ASC), which prohibits the conversion of mangroves and other intact habitat.
Join precompetitive platforms like the Seafood Task Force to capitalize on broader industry momentum and tools.
Despite the significant environmental and economic value provided by these unique ecosystems, mangroves are still being converted for food production. It is currently projected that mangroves will be gone in the next 100 years unless urgent actions are taken to reverse this trend. It is time for businesses to respond to this urgent moment and work together to protect their bottom line, along with people and planet.