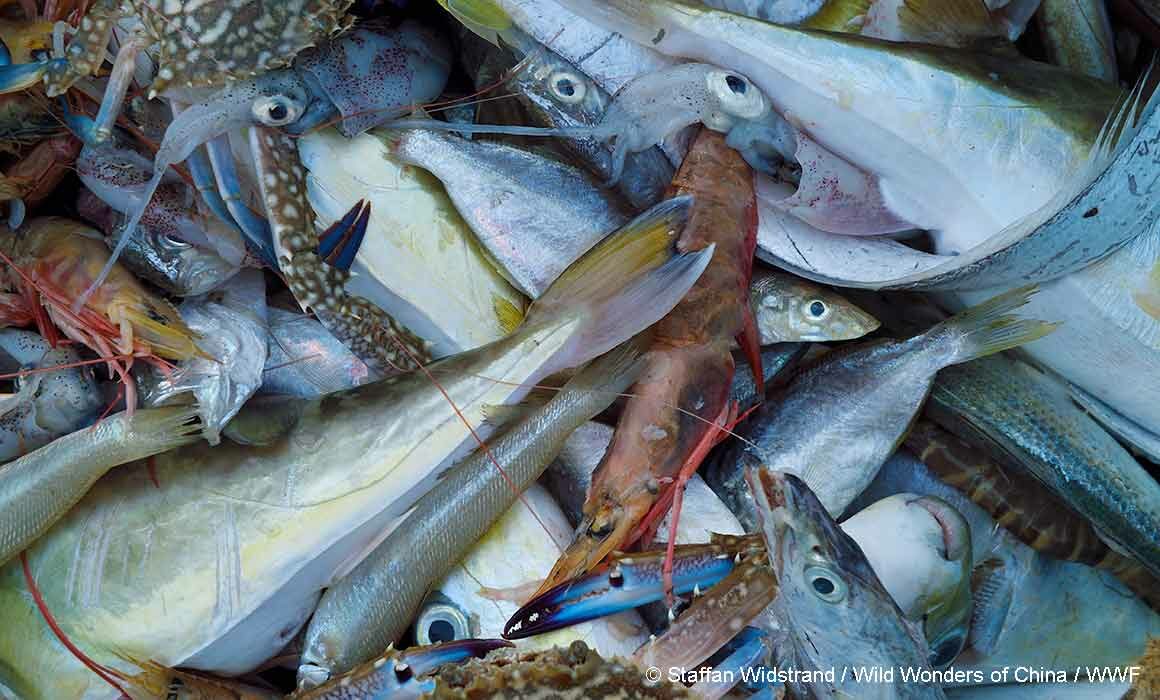 The last time you ate seafood at a restaurant did you consider that what showed up on your plate may not have been what you ordered? Chances are the potential for seafood fraud never crossed your mind, but it should have.
Seafood fraud is a common and profitable practice that not only compromises retailers, foodservice professionals and consumers, it also threatens our oceans and human health.
Products often pass through many hands from catch to final sale, so there are multiple opportunities for fraud to occur. Oftentimes, it's unintentional – seafood on a poorly monitored supply chain can be mislabeled as it moves from sea to store. Other times, fraud is intentional with actions that include substituting species, lying about origin and attempts to pass off uncertified seafood as sustainable.
According to Traci Linder, Global Seafood Traceability Manager for World Wildlife Fund (WWF), one of the most common forms of seafood fraud is mislabeling a lower value species for a higher value one.
That's exactly why ASC is on a mission to ensure the right farm-raised seafood reaches your plate every time. With ASC, you not only get a new way to seafood, you also get the strictest standards for greater transparency and accuracy.
Scary Seafood Fraud Stats
The Guardian recently conducted an analysis of 44 studies of 9,000 seafood samples from restaurants, fishmongers and supermarkets in over 30 countries, and found that 36% were mislabeled. Here are a few stats to consider:
NGO Oceana revealed that 30% of DNA-tested shrimp across more than 100 restaurants and grocery stores were either labeled as the wrong species or as wild caught instead of farmed.
A follow up report of a nationwide study on seafood fraud found that red snapper and tuna had the highest mislabeling rates at 87% and 59%, respectively. In fact, only seven of the 120 samples of red snapper purchased nationwide were actually correct. Salmon is mislabeled about 7% of the time.
Sushi venues were found to have the most opportunity for mislabeling at 74%.
"This highlights the vast and prevalent issue of mislabeling and fraud in the seafood industry," said Linder, who also noted these practices also are often associated with illegal, unregulated and unreported (IUU) fishing activity, which is a big threat to the health of oceans. "Mixing and mislabeling of illegally caught species can easily happen without consequences."
Identifying and Deterring Fraud
Purchasing ASC-certified products is one of the best ways to know for sure that the seafood you're eating matches its label.
"One of the leading ways to combat seafood fraud is through robust supply chain traceability," explained Linder. "Supply chains using best practices in seafood traceability – digital data capture and exchange, using interoperable traceability systems and capturing and sharing key data from harvest to final sale – are much less susceptible to fraudulent practices."
Currently ASC is the only aquaculture certification program that can verify your seafood is what it claims to be, where it came from, how it was responsibly raised and how it got to you. This is done through ASC's chain of custody protocols, rules for certification, label controls and, now, with the application of innovative technologies that can track seafood from farm to store.
"All companies handling ASC-labeled products must have chain of custody certification," said Kathleen McDavitt, ASC's U.S. Market Development Manager. "This involves an independent auditor going to the facility and verifying that they keep certified products separate and identifiable from non-certified products. Chain of custody holders also have to successfully complete a traceability exercise to verify the products' origins."
ASC is also pioneering the use of two innovative technologies in third party certification that will make fraud even more difficult. The first is based on trace element fingerprinting (TEF), which can pinpoint a fish's farm of origin with greater than 95% accuracy. It goes beyond traditional document-based auditing techniques toward direct physical authentication of seafood products that can be tested at any point in the supply chain.
"TEF technology reflects the concept that 'you are what you eat,'" explained Peter Redmond, ASC's Senior Market Development Manager, North America. "The environment in which you eat, drink and live leaves a footprint in your body, and the same is true of farmed seafood. Trace elements from the local soils, groundwater, surrounding environment and food are taken in by plants and animals and, with our use of TEF, we can link them back to their place of origin."
The second connects the supply chain through digital tagging, also known as key data elements (KDE). According to Wendy Banta, ASC's Head of Supply Chain Assurance, this is a tool that can tag, track and record certified seafood from point of harvest to point of sale. In addition to adhering to this transparency, ASC's chain of custody requires that supply chain members maintain high quality, secure handling and product integrity while seafood is in their custody.
"The more innovative ways we have to verify that an ASC certified product is true to its claims, and the wider variety of data points we have to cross-check, the harder it becomes to substitute or inflate certified production," said Banta.
Raising Consumer Confidence
All of these safeguards help ASC and the independent auditors who monitor farms, processors and traders to identify and act against fraudulent activity. In these fishy situations, ASC doesn't let violators off the hook.
According to McDavitt, ASC is the only certification program that requires suspension and public disclosure of any farms, processors, distributors and supply chain members that do not maintain the integrity of its protocols.

"During the third-party certification process, ASC collects key information that allows auditors to verify that producers and processors aren't inflating their volumes of certified seafood sold compared to how much was harvested at the farm. If discrepancies are found, ASC will publicly suspend a company's license to use the logo and an investigation may take place. Suspensions and terminations of companies from our program are publicly posted on our website," said McDavitt.
A similar principle applies to companies that have signed an ASC logo licensing agreement. If a company doesn't adhere to the logo licensing terms and conditions, the agreement can be suspended or terminated.
"We invest so much time and resources into this because people deserve to know exactly what they're eating," said McDavitt. "When you see the sea green label on the package, you know you're getting the most transparent and responsibly raised seafood on the planet."
---
Article initially published on ASC on March 23, 2022.
---