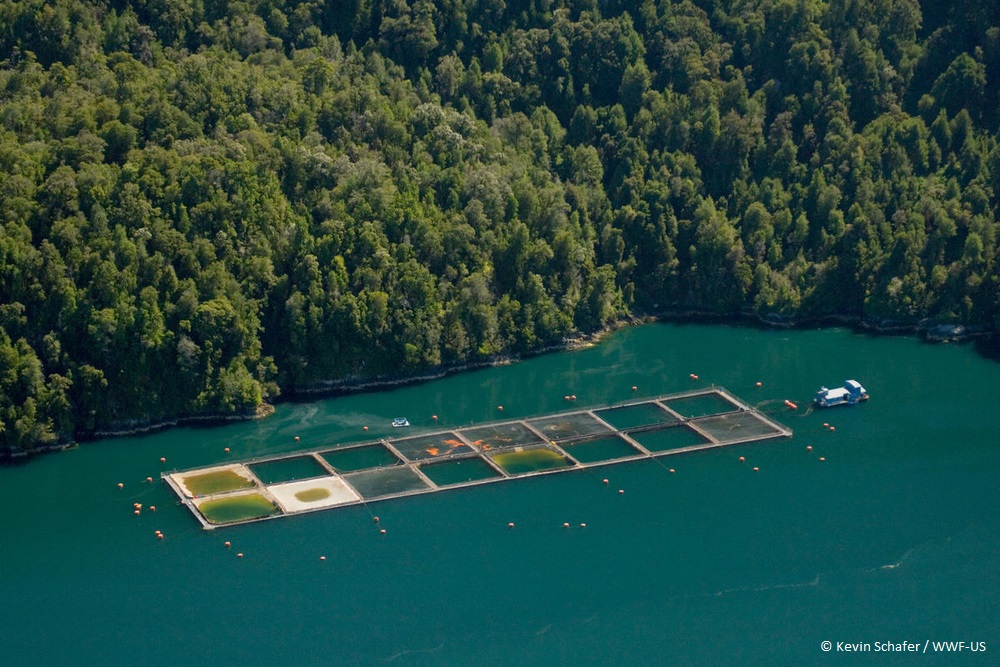 By: Cristina Torres, WWF Chile Marine Program Coordinator
Stretching over 4,000km, Chile boasts one of the world's most spectacular coastlines. The rich waters around its fjords, channels and islands are home to unique species, including the blue whale – the largest animal to have ever existed.
Southern Chile also supports one of the world's largest salmon industries, supplying almost a third of all farmed salmon. In Chile, the industry employs more than 70,000 people with annual exports worth around $4 billion. Aquaculture is the fastest-growing food production sector for protein in the world, and in Chile, among other countries, that explosive growth has come with negative environmental and social implications.
Feed and fish waste increase water pollution, which can lead to algal blooms that deprive marine life of oxygen. Inadequate planning and siting has created poor environmental, social and sometimes even production outcomes, while escapes and disease can harm everything from krill to whales. Meanwhile, using wild fish stocks for salmon feed puts significant pressure on environmentally critical fisheries—reducing the amount of prey fish that predator species rely on to survive. And in other instances, farm infrastructure and activities can impact other resource users and community structures.
These impacts have bred tension between aquaculture companies and local and indigenous communities and individuals that rely on healthy fish stocks, fishermen chief among them. Indeed, salmon farming in Chile has been criticized by civil society campaigns on both environmental and social grounds. At this time, most salmon companies operating in Chile recognize the need to improve production practices and strengthen relationships with local communities.
Against this backdrop, WWF has been working for over 10 years with industry representatives, investors, government officials and local community advocates and conservationists to reduce the negative impacts of salmon farming on Chile's coastal ecosystems and communities.
To help companies tackle environmental and social problems, WWF encourages farms to obtain Aquaculture Stewardship Council (ASC) certification. The ASC standard uses science-based criteria to minimize or mitigate negative impacts on aquatic ecosystems and to protect the rights of workers and communities. WWF is also mapping biodiversity in coastal ecosystems to ensure salmon farms have minimal impact on wildlife and their habitats.
Achieving certification also means changing the way companies engage with the communities around farms. WWF partnered with food and agriculture financier Rabobank, alongside the Consensus Building Institute (CBI), an NGO specialized in constructive dialogue processes, to develop a social 'toolkit'—a package of approaches, systems, guidelines and practical tools including training sessions to educate and serve as a resource to guide consistent and effective engagement with communities—for salmon companies. "Both Rabobank and WWF are helping to address the sustainability issues farmed salmon producers face," says Brenda de Swart, sustainability manager, RaboFinance Chile. "Through our partnership, we combine our knowledge to drive and support our clients towards better production practices in line with ASC requirements."
"Previously, companies were implementing a range of programs with mixed success. The toolkit was designed to help them evaluate their actions as a company and design better and more impactful approaches, aligned with ASC, that empower the communities and are jointly developed and implemented. The toolkit development process consolidated and shared best in practice expertise for how salmon farming companies can meaningfully engage with communities," says WWF Chile Marine program coordinator Cristina Torres.
Los Fiordos worked with WWF to develop and test the toolkit and Blumar, another salmon partner of WWF in Chile, has also agreed to implement it. Los Fiordos has a history of working with the communities around the farms. The social toolkit and ASC process have brought greater focus to the approaches and implementation of community relationship programs.
"Our previous work with communities had to be systematized and better organized in order to meet the standard, creating concrete procedures and ensuring that our community work was producing results," says Francisco Sandoval, community relations manager at Los Fiordos. "We have held consultation meetings with communities that have generated a greater openness and transparency, and improved dialogue with all our stakeholders."
"Through the implementation of the toolkit, we are continuing to educate communities on the environmental and social importance of ASC certification. It is important to continue education so that local stakeholders and consumers become familiar with the standard, understand what it means to be a company with ASC certified farms, and choose ASC as they know it means a responsibly produced product," Francisco added. Furthermore, this work aims to build capacities in local communities to have more open, constructive and effective relationships with companies.
WWF will continue to oversee and participate in social toolkit trainings in the three salmon-farming regions of Chile. In addition, many of the Chilean companies have decided to engage with partner CBI in a further round of development of their community engagement actions and activities. WWF and other stakeholders are also working to understand how to better empower the communities to engage back with the companies; this is an important next step for building long term results. WWF encourages buyers to buy ASC and to ask their Chilean salmon suppliers to use the toolkit to develop meaningful and strong relationships with the communities around their farms.
For more detailed information on this process, please see the social toolkit "ASC Certification in Chile: Toolkit and Guidance for Responsible Community Engagement by Salmon Companies".