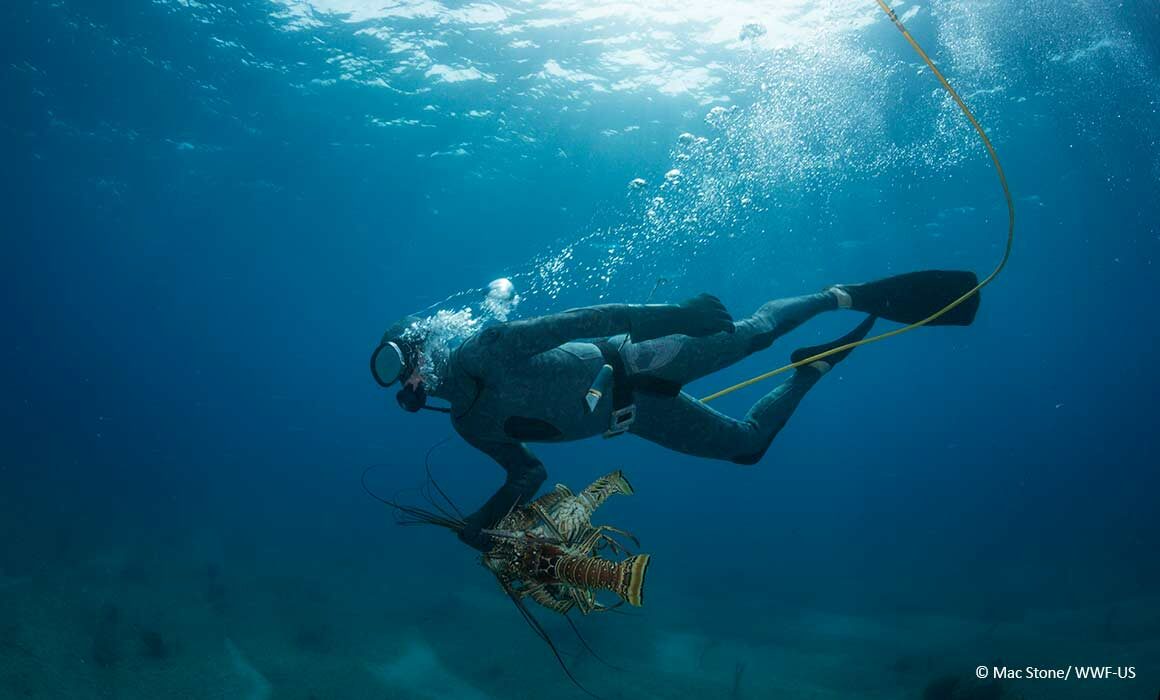 Three years into Marine Stewardship Council (MSC) certification, The Bahamas lobster fishery reports greater resilience, increased local awareness, and reinforced collaboration. The fishery continues to harness the benefits of this important milestone to help preserve its classic turquoise coastline, thriving corals and seagrasses, and colorful marine species that are the staples of this paradisiac Caribbean archipelago.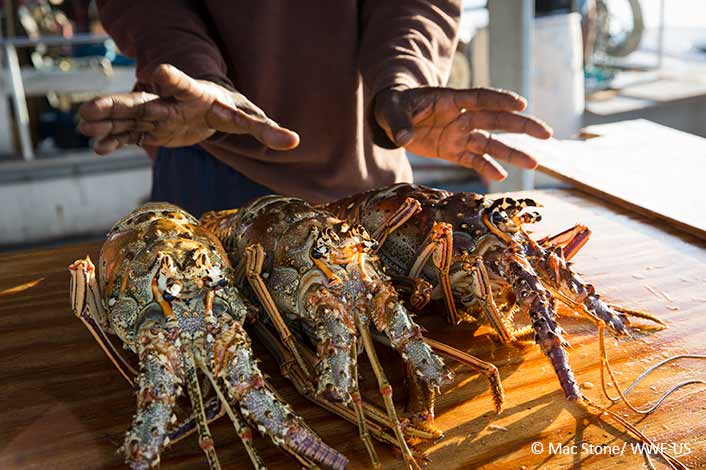 "Despite the pandemic hardship, the fishery was able to maintain its international markets and continue to support well-needed livelihoods for the fishing community", explains Mia Isaacs, President of The Bahamas Marine Exporters Association (BMEA) which holds the MSC certificate and is a key actor in helping the fishery achieve certification. "We can clearly see the positive impact of MSC certification across stakeholders, fishers, and partners that work together more effectively and are more aware of the importance of sustainable fishing practices", she adds.
Reports from the water confirm that the fishery continued to flourish even with a global market downturn brought on by Covid-19. Fishers continued to sell at stable prices throughout the pandemic, which brought stability for hundreds of people who depend on lobster sales as one of their main sources of revenue in times of adversity. The Bahamas lobster certification and fishery improvement project (FIP) that the BMEA, WWF, The Nature Conservancy, The Bahamas Department of Marine Resources and others engaged in for eight years to move the fishery towards certification also helped restructure the fishery and brought together all stakeholders in a more collaborative manner as an increased sense of ownership took over.
Throughout this journey and with the extra assurance provided by MSC certification, more and more locals say they came to appreciate the importance of sustainable fishery management, and that awareness provided extra motivation for fishers to adhere to the regulations in place and work in a more collaborative manner. The topic of protecting The Bahamas spiny lobster has even become a trending subject on mainstream media relayed by local Radio and TV stations.
The Crucial Role of US Buyers
The role of US companies has been instrumental in supporting the fishery on the road to certification and beyond. WWF helped mobilize major seafood buyers, such as Costco, Kroger, Red Lobster, Hyatt, Hilton, Tequesta Bay, and others, to incentivize the fishery to transitioning towards sustainability and to provide timely financial support.
"At Costco, we are committed to doing our part to help protect fisheries and the people who depend on them. One of the most impactful ways for companies to do so is to support credible Fishery Improvement Projects that lead to third-party verified, credible certification. We are thrilled to see the Bahamas Lobster fishery leveraging the benefits of certification and setting a successful example for other FIPs worldwide to follow".

Bill Mardon, Assistant General Merchandise Manager of Meat and Seafood at Costco Wholesale Corporation.
Spiny lobster is an important commercial species for The Bahamas. The $90 million Bahamian lobster industry employs about 9,000 fishers who cover a massive 45,000 square miles of ocean. More than 4 million pounds of spiny lobster tails are exported each year, primarily to the United States (60%) and Europe (30%).
"Lobster fishing in The Bahamas is not just a job. It's a way of life for coastal communities and a tradition passed down from generation to generation. Through our partnership with WWF, Red Lobster is proud to continue supporting the men and women in these communities, who have worked hard to achieve MSC certification and have adopted more responsible fishing practices to ensure there is enough lobster to catch and enjoy for generations to come."

Nelson Griffin, Chief Procurement and Real Estate Officer at Red Lobster.
In the past, critical issues challenged this fishery, including its capacity to address illegal, unreported, and unregulated fishing (IUU); adopt a harvest strategy; review management performance; collect reliable catch data; and accurately estimate stock health.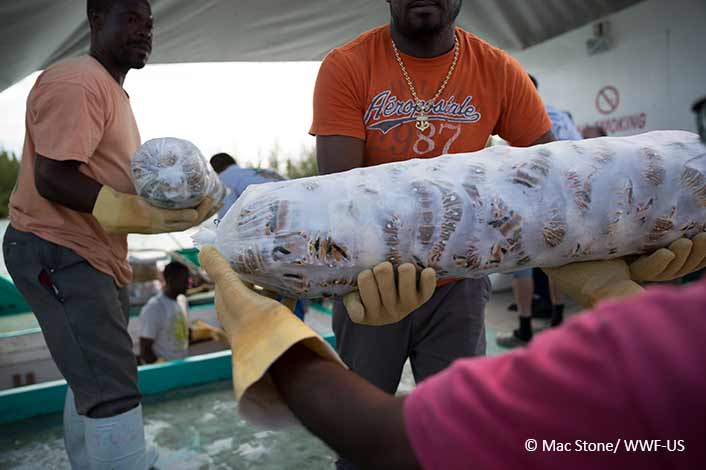 Since 2009, WWF together with the Bahamas Marine Exporters Association, The Bahamas Department of Marine Resources and The Nature Conservancy, have driven improvements to the fishery. Through a fishery improvement project (FIP) addressing governance, fishing practices, and environmental impacts, their efforts helped the fishery to meet the MSC standard in August 2018. The current certification runs through February 2024.