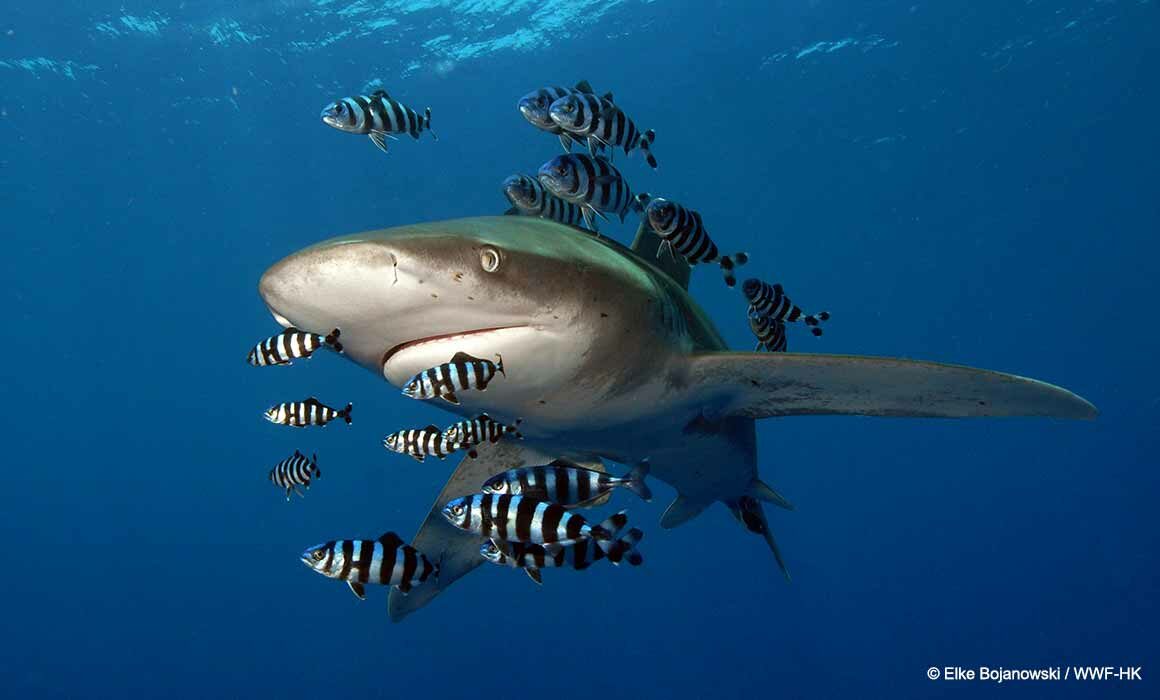 World Wildlife Fund (WWF) and Amyris, a leading synthetic biology company, announced a new three-year partnership aimed at leveraging science to protect ocean biodiversity with an initial focus on shark populations. This new partnership will support WWF's global efforts to reverse the downward trends that threaten biodiversity and human well-being by repairing, restoring, and protecting the oceans.
"Every day at Amyris, we think about how we can improve the health of people and planet, push boundaries and drive change. As the world's leading manufacturer of sustainable ingredients made with synthetic biology, we are focused on accelerating the world to sustainable consumption. This partnership with WWF is a perfect fit and indicative of our shared alignment on science, biodiversity, and passion for conservation. Our work together will scale up our impact and raise awareness on the importance of healthy oceans for people and businesses."

Beth Bannerman, Chief Engagement and Sustainability Officer, Amyris
Amyris uses synthetic biology to create sustainable alternatives to ingredients traditionally derived from finite sources (including animals, plants or petrochemicals). Squalane, their flagship ingredient, is bio-identical to the squalane traditionally harvested from shark livers, but made using 100% sustainably and ethically grown and harvested, renewable sugarcane.
Amyris is supporting WWF's Ocean conservation efforts to restore shark populations impacted by the fishing industry.
"Our oceans' biodiversity is under threat and immediate interventions are needed. Yet, the ocean is filled with solutions to some of today's biggest challenges. Our new partnership with Amyris aligns with our mission to encourage companies to engage in restorative efforts and implement nature positive business models to drive net positive impact for people and planet."

Caroline Tippett, VP of Ocean Markets and Finance at WWF-US
The collaboration will include advancing more sustainable fishery management models in both Ecuador and Peru. Fishery improvement projects (FIPs) in both countries are actively seeking to reduce impacts on shark populations and are both working to reduce shark bycatch and improve fishing gear. 
Prioritizing Shark Populations Conservation
In the last four decades, the population sizes of mammals, birds, fish, amphibians and reptiles have seen an alarming average drop of 68% since 1970, according to the most recent Living Planet Report. Shark populations around the world are in rapid decline. Research suggests that around 100 million sharks are killed annually, leaving around one third of all open ocean sharks threatened with extinction.
With tens of millions of sharks killed yearly, they are among the marine species most affected by overfishing. WWF advises eliminating shark procurement from buyer supply chains due to its endangered species status on the red list of the International Union for Conservation of Nature (IUCN).
According to marine scientists and advocates, this vulnerability is exacerbated by the demand for squalane for its skin and beauty virtues. The most concentrated source of high-purity squalane is found in shark livers, notably those living in deep water. Traditionally, squalane is harvested from deep-sea shark livers, which has the potential to devastate shark populations and have long-lasting ecological consequences.
Amyris' commitment to ocean conservation and the protection of sharks began when they developed sugarcane-derived Squalane as an alternative to shark-derived squalane. By powering their brands with Squalane and selling it to 70% of the global squalane market, Amyris estimates it saves more than 2.7 million sharks per year.
In future phases of the partnership, we will explore linkages between the sustainable ingredients that Amyris produces and global biodiversity health.