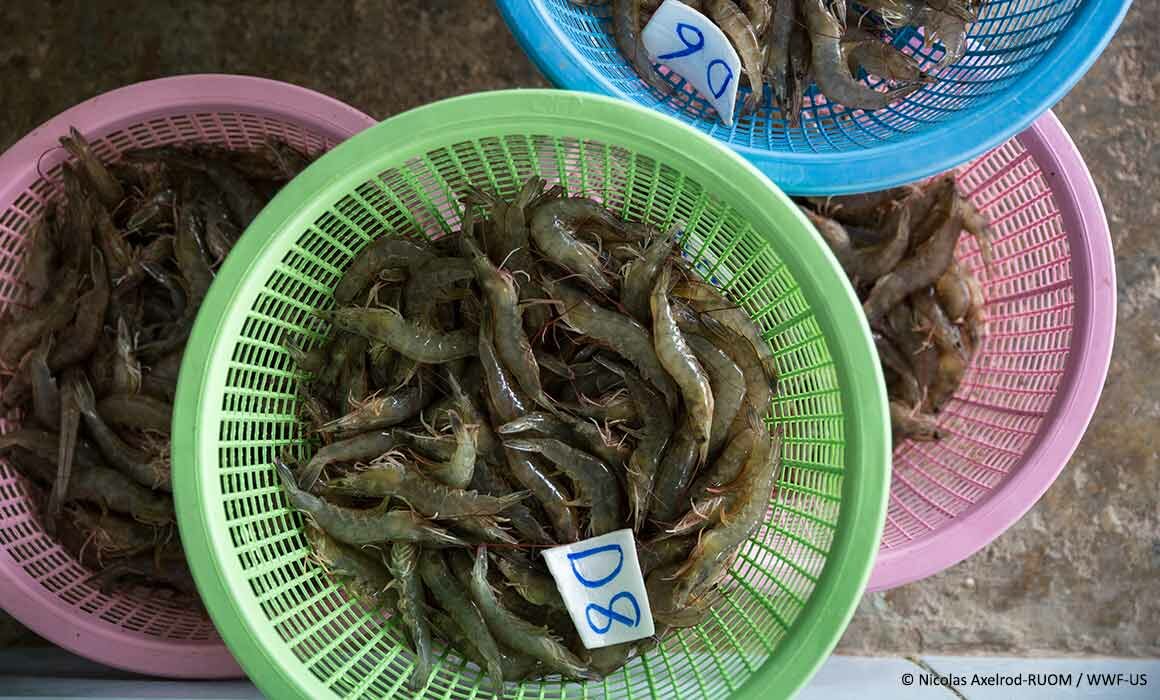 From pond to shelf, farmed shrimp goes through a complex supply chain made up of thousands of actors. Data about its farm and country of origin, species, embedded environmental impact, and conditions of production can be easily lost along the way. Compelled by consumer and investor demand for better transparency, retailers are beginning to realize the need for full end-to-end traceability systems to ensure they can track products and feed ingredients back to their source.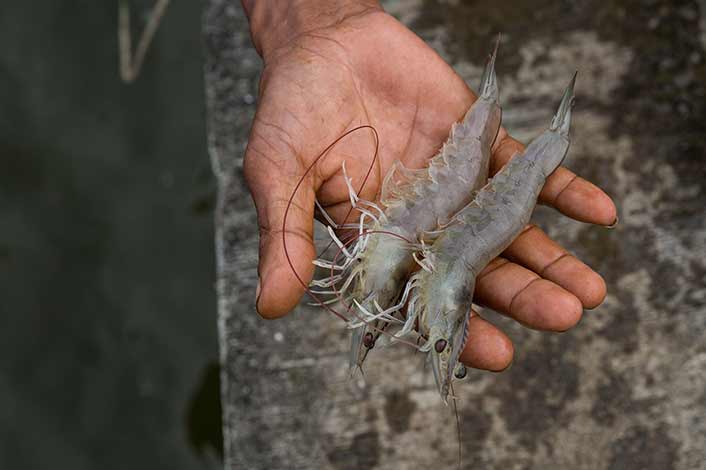 Opportunities for fraud, labor rights violations, and environmental degradation are increasing in the seafood industry, as it is incredibly challenging to document activities that occur at sea or at farms, such as transshipment of both food and feed products, human rights violations on fishing vessels, or even destruction of natural ecosystems. If traders are unable to track the origin of products, it puts company reputations all along the supply chain at risk, raises significant shareholder concerns, and impacts brand value and corporate social responsibility initiatives.
Several tools are available for businesses to improve traceability through collaboration with local government and other private sector partners. Most of the world's farmed seafood comes from developing nations, which largely rely on cash transactions and have limited recordkeeping requirements. This reality makes traceability more problematic according to a recently published report by the Food and Agriculture Organization of the United Nations (FAO) on the value of using new technologies in seafood value chains.
A Paperless, Smart, and Open-Source App
World Wildlife Fund (WWF) understands the complexity of these issues and not only advocates for increased traceability, but is developing tools to bridge accessibility and cost gaps. Working alongside stakeholders from the farmed shrimp industry, WWF developed an open-source, cloud-based smartphone app and desktop web portal called transparenC. The transparenC application can be used by farmers, buyers, and everyone in between without paying licensing fees that have hindered past technological efforts.
"All actors in the shrimp industry will need inclusive, creative, and practical solutions like transparenC if we want to achieve traceability in these complex and opaque farmed shrimp supply chains. Knowing where our food comes from benefits everyone: consumers, retailers, producers, governments, and the planet. In the case of shrimp, traceability means we can ensure that our food doesn't come at the cost of mangrove loss or obscured labor and human rights violations."

Blake Harris, Aquaculture Traceability Manager at WWF
Tracking Shrimp Production from Start to Finish
Through increased traceability, businesses can better understand their operations, along with potential risks and opportunities within their supply chain and prove that a product is ethically and sustainably sourced, helping to overcome those risks. The ability of business to provide such information to stakeholders will become increasingly important; Statista has predicted that the global food traceability market could be worth more than $16 billion by 2022.
WWF is currently piloting the transparenC application in production countries in collaboration with some of the largest seafood retailers from Europe and the United States.  Costco Wholesale Corporation, for example, is working with two of its farmed shrimp processors in India and two in Vietnam on piloting the transparenC system for improved traceability and transparency in their farmed shrimp supply chains.  
"The seafood industry is under increasing pressure to make its complex supply chains more transparent. At Costco, we are committed to being able to trace our Kirkland Signature farmed shrimp products to source farms in order to provide the traceability needed to ensure our products are produced in a more environmentally and socially responsible way. Through piloting end-to-end traceability systems like transparenC, we can more readily understand the connection between the seafood we display on our shelves and the people and places that helped produce it."

Tonette Lim, Responsible Sourcing Manager at Costco Wholesale Corporation.
Conceived in collaboration by WWF and Republic Systems, the app was developed with farmed shrimp as a test case, but the open-source tool can easily be applied to other commodity supply chains. This affordable and user-friendly system prioritizes connecting different supply chain actors, which is a critical step towards understanding where our food comes from.
---
Learn more about transparenC here.