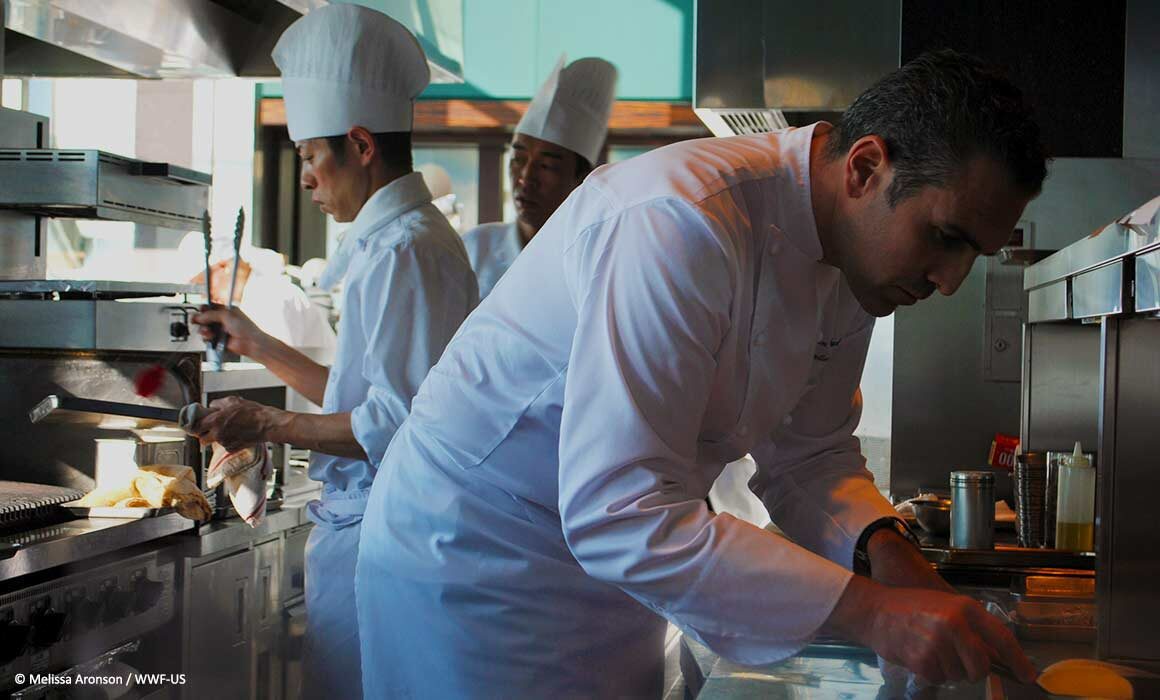 When Hyatt first deployed its global sustainable seafood goal in 2014, creating a culture of awareness around the issue of seafood sustainability was one of the primary objectives. At Hyatt, as with many global hoteliers, the purchasing of seafood is decentralized. Hyatt-branded hotels rely on their chefs and purchasing teams around the world, independently working with menu planners, suppliers, and communities to advance the sustainability of the seafood they offer their guests. By looking for certified products and working with supply chains to transition fisheries and aquaculture farms to more sustainable, responsible practices, Hyatt hotels and resorts push to increase both the quality and quantity of more sustainable seafood available around the world.
Chef Ronan Cadorel, Executive Chef at Park Hyatt Tokyo, sees the importance of leading by example: "As a father, it is so important to me that my children can enjoy this planet, and as a chef, I have the platform to help improve fishing and farming practices around the world in a way that protects Earth's natural resources for generations to come. At Hyatt, our purpose is to care for people so they can be their best. Knowing this, I felt empowered in my role and supported by Park Hyatt Tokyo to create sustainable change and extend care to our planet."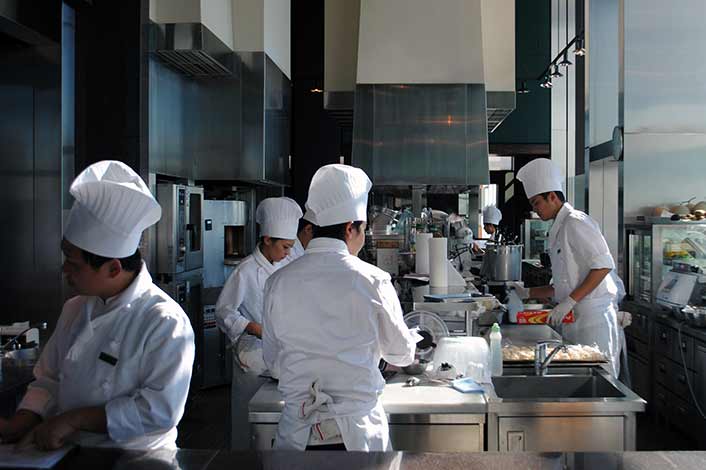 Park Hyatt Tokyo has challenged itself to move the needle in the industry by using their property's purchasing power to choose seafood that comes from responsible sources, prioritizing those products sourced from Marine Stewardship Council (MSC) certified fisheries or Aquaculture Stewardship Council (ASC) certified farms. But they didn't want to stop there. They wanted to demonstrate even further verification with respect to the chain of custody of these products.
In May of 2015, Park Hyatt Tokyo became the first hotel in Japan and the second in all of Asia to achieve Chain of Custody (CoC) certification by the MSC and ASC, a traceability and segregation standard that is applicable to the full supply chain from a certified fishery or farm to final sale. To become CoC certified, every company that takes ownership of MSC and ASC product and sells it under the label is independently audited against the MSC and ASC CoC Standard. For Park Hyatt Tokyo, this meant working with suppliers to ensure their full supply chain carried a valid CoC certificate for those products being sold as MSC or ASC certified.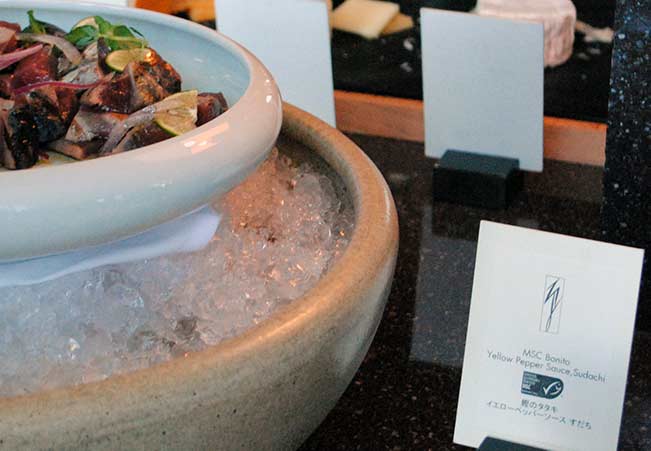 "We understand the importance of sourcing responsible and certified seafood products, but without Chain of Custody certification there is no guarantee. Certification to the CoC standard creates an unbroken chain where certified seafood is identifiable, segregated, and traceable. "This level of traceability enables us to push forward our sustainability commitments for the benefit of the environment and our customers."

Chef Ronan Cadorel, Executive Chef at Park Hyatt Tokyo
Traceability is critical to addressing some of the most pressing issues impacting the seafood industry including illegal, unreported, and unregulated (IUU) fishing and forced labor. MSC and ASC CoC certification allows companies to reduce sourcing risk in their supply chains, as products can be traced back to a certified source.
At Park Hyatt Tokyo, the decision to go after Chain of Custody certification was not only an important step to ensure the authenticity of their products, but it was critical to promoting their work and sharing their efforts with their customers. After meeting the standard, Park Hyatt Tokyo secured an MSC and ASC logo license. This allowed them to clearly label the MSC and ASC certified products on their menu with an identifiable checkmark, so that when a guest of Park Hyatt Tokyo is perusing the hotel's lunch or dinner menu, they can pinpoint the variety of smart seafood choices offered by the hotel.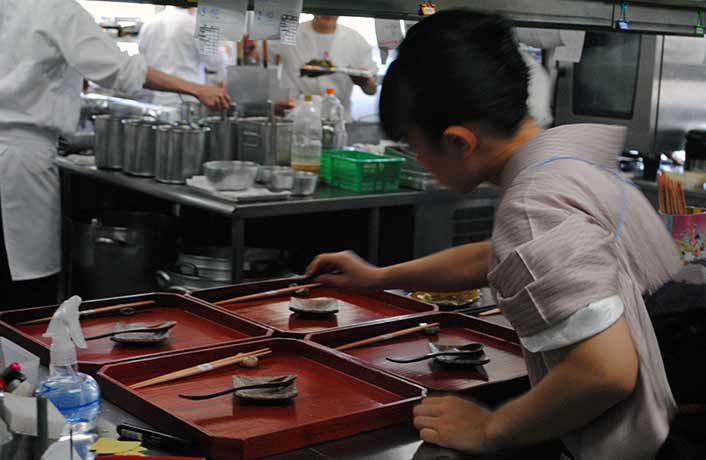 "The Park Hyatt brand is known for its immersive and rare culinary experiences, and in the eight restaurants, bars, and shops in our hotel we sometimes see hundreds of customers a day, looking for food and experiences that inspire them," said Chef Ronan. "The point is not just to serve them food that we can feel good about, but to educate conscious consumers on the underlying issues facing our oceans and how we can all be a part of the solution by choosing to eat responsibly."
This hotel's push for increasingly traceable products has had positive impacts across their entire supply chain, according to Tomohiro Taguchi, materials manager at Park Hyatt Tokyo. "We are seeing more and more companies going after Chain of Custody certificates to meet the growing demand for certified product that is traceable from the source to the plate," he explained. Several of Park Hyatt Tokyo's contracted suppliers have Chain of Custody certification, and the hotel expects even more in the year to come, which will further increase their certified seafood offering.
There are more than 900 Hyatt properties around the world, including 18 properties in Japan.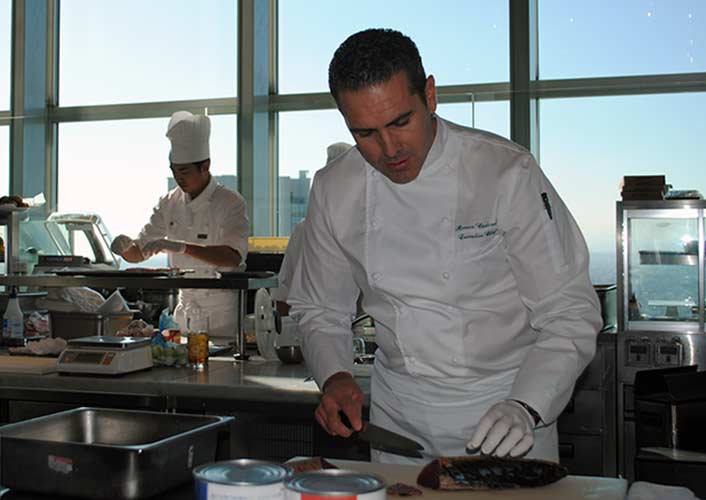 "At Hyatt, the impact we have through our responsible sourcing methods is not small, but we are only one hospitality brand. This issue is bigger than us, and we need more companies to come together to make an industry-wide impact. Protecting the ocean is not something we can or should tackle alone. We are in this together."

Chef Ronan Cadorel, Executive Chef at Park Hyatt Tokyo
At WWF we understand that global problems need global solutions, and when it comes to conserving nature and reducing the most pressing threats to the diversity of life on Earth, it takes a collaborative effort. "While the problems we are tackling in the seafood space may be daunting, commitments from companies like Hyatt to improving the transparency of their supply chains can really help to move the needle in overcoming these global challenges," said Liz Watt, senior program officer of Seafood Markets at WWF. "We applaud Chef Ronan and the team at Park Hyatt Tokyo for championing seafood sustainability in their operations and setting an example for hotels around the world."