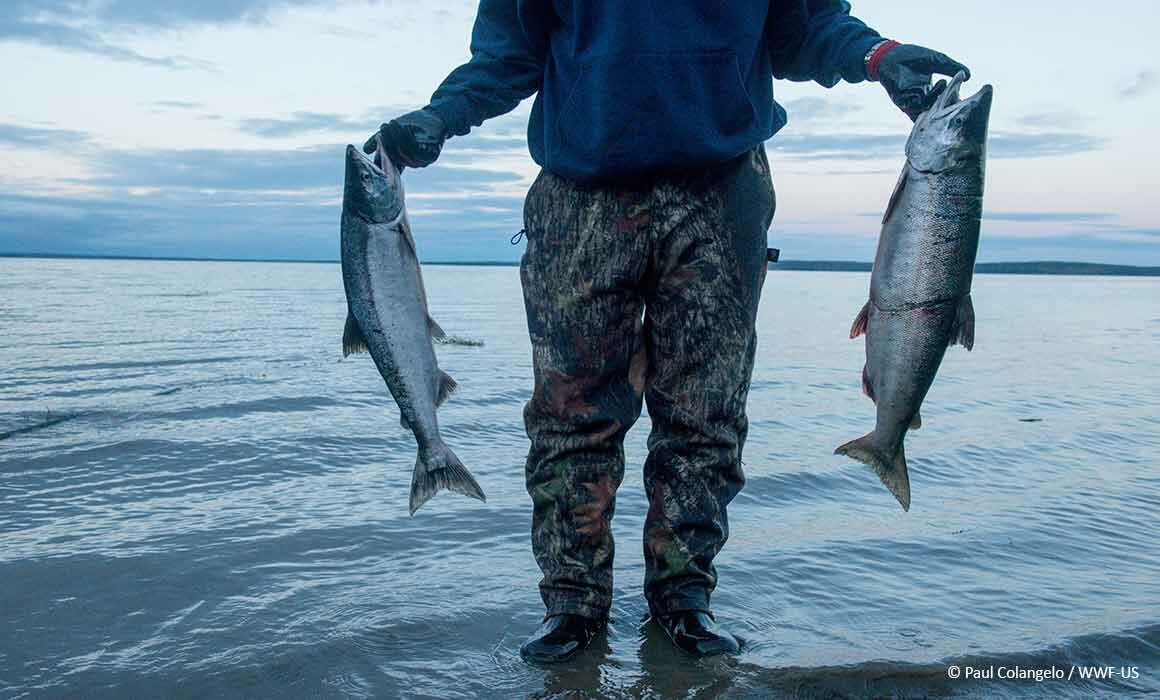 Bristol Bay, Alaska is one the most pristine ecosystems in North America and home to the iconic sockeye salmon species. For nearly two decades, a national coalition of Alaskan Natives, commercial fishermen, conservation groups and other actors have been fighting to save Bristol Bay from the proposed Pebble Mine. Although the developer's permit was denied and the project paused in 2020, large-scale mining continues to be a risk. Today, your business can provide permanent protection for what is often called America's fish basket.
Bristol Bay is synonymous with commercial fisheries, but without permanent protection from projects like the Pebble Mine Bristol Bay's future is at risk, creating economic uncertainty for salmon supply-chains and businesses. Over the last few years, major retailers and businesses in the seafood supply chain have stepped up to engage and voice their support for protecting Bristol Bay, including Publix, Whole Foods Market, Hy-Vee, Orca Bay Foods, Seattle Fish Co, Silver Bay Seafoods, and Pacific Seafood Processors Association, among others.
"Publix is proud of our relationship and support of the Alaskan seafood industry. Alaskan seafood is a critical part of our efforts to bring wild, domestic seafood to our customers. Bristol Bay and specifically Bristol Bay Sockeye is the cornerstone of that program. The bay and the accompanying watershed play a critical role to the health and well-being of the entire ecosystem. The proposed mining project endangers this ecosystem. Bristol Bay must be permanently safeguarded to ensure it continues to providing jobs, revenue, and sustainable wild seafood for future generations."

Guy Pizzuti, Business Development Director of Seafood at Publix, a partner of the Businesses for Bristol Bay (B4BB) coalition.
Bristol Bay features the world's largest wild salmon fishery, which supplies as much as 57% of the world's sockeye salmon and more than 30% of Alaska's total wild salmon harvest. The Bay is also brimming with other important species like sea otters, beluga whales, humpback whales, caribou, brown bears, and moose. Bristol Bay's intact ecosystem continues to provide a rare refuge for fish and wildlife despite a continuously warming arctic zone, with record-high salmon returns upwards of 50 million adult sockeye salmon in recent years.

How Can Your Business Help
Collectively, companies and business leaders can impact the future of the Bay and its precious resources by supporting permanent protections that will shield the region from any potentially damaging mining projects. Learn more about how to get involved in the protection of Bristol Bay and join hundreds of businesses in signing the coalition's national letter to President Biden and Congress by clicking here.
Businesses for Bristol Bay advocates for economic prosperity in the Bristol Bay region and beyond by advancing public policy that provides companies, communities, and individuals with stability and a level playing field. The coalition's partners bring a diverse perspective to the question of upholding a triple bottom line. Many coalition members are directly tied to Bristol Bay's sustainable wild salmon fishery, including retailers, restaurants, and processors among other downstream members.

What's on the Line
Bristol Bay's breathtaking tundra and unspoiled waters are unmatched for their marine ecosystem productivity. Five species of Pacific salmon (Sockeye, Chinook, Coho, Chum, and Pink) spawn and rear in the Bristol Bay watershed, supporting people and wildlife like brown bears and eagles. The Bay is a vital habitat for 29 fish species and more than 190 bird species. Over 4,000 locals, including Alaska Native Yup'ik and Dena'ina tribes, rely on these local species – including fish, moose, and other subsistence food- for 80% of their protein.
The watershed supports the largest sockeye salmon run in the world, producing about 46% of the world's wild sockeye harvest. The fishery generates $2.2 billion in annual economic revenue and sustains 15,000 jobs throughout the United States annually. Salmon fishers in Alaska's Bristol Bay alone pulled in $309.6 million last year, an all-time high, with more than 44 million salmon caught across the region, according to state data.
"A lot is at stake here: The salmon, the ecosystem, the income, and cultures of an entire region. Bristol Bay is too important to gamble with. This has been a decades-long battle and in the last five years alone, more than half a million Americans have joined WWF in urging the US government to stop the Pebble Mine from moving forward. We cannot stop our fight to protect Bristol Bay's salmon fishery and the renewable economy and vibrant Alaska Native culture that it sustains."

David Aplin, Community Outreach Manager at WWF and a passionate Alaskan.
The Risk is Real and Still Looming
The proposal is to create an open pit mine to extract from a gold and copper deposit beneath the Bay's two most productive river systems in a seismically active region. If developed, the Pebble Mine would be North America's largest open pit mine, going 1,970 feet deep in Bristol Bay's watershed and producing 10 billion tons of toxic waste which will harm communities, fishermen, and businesses.
"The risk is real. While the mine itself would destroy critical salmon habitat, the infrastructure needed to develop and operate the Pebble Mine doubles the threat and opens Bristol Bay to other potential mines. This would be devastating for the local fisheries, communities, and businesses that depend on them."

Elizabeth Herendeen, the coalition coordinator of Businesses for Bristol Bay.
In November 2020, the US Army Corps of Engineers denied the Pebble Limited Partnership's Clean Water Act permit application, pausing this dangerous project from moving forward. The following week Bristol Bay tribes and residents released a Call to Protect Bristol Bay, outlining their vision for permanent protections and a two-step process that would ensure that large-scale mining does not continue to threaten Bristol Bay's communities, fishermen, and businesses.
"Having the Army Corps of Engineers conclude that the Pebble Mine would be harmful to Bristol Bay is an important step, however, a full veto of the project is still essential to making sure this threat does not continue to hang over Bristol Bay. There is no reason to leave the door open for the Pebble Mine or any other large mining development in the future. It is in our country's best interest to permanently protect Bristol Bay and businesses can play a major role in that", adds Herendeen.
The risk is real and still looming around this valuable ecosystem, but collectively local communities and businesses like yours can provide permanent protection for Bristol Bay and safeguard it for generations to come.