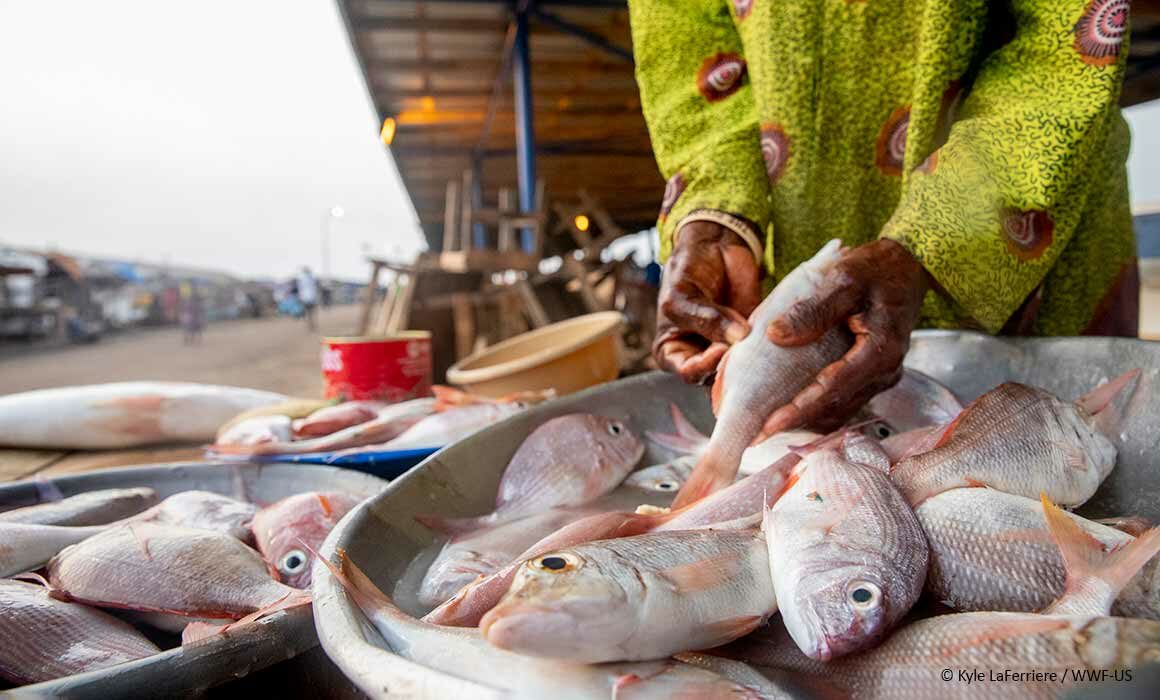 Fish bring life to our planet and connect us all to our shared oceans. Even in the most turbulent times, we find ways to maintain that connection and work toward a better future with our corporate partners across the seafood industry. That was especially true over the last year.
The pandemic disrupted seafood-related business in a multitude of ways, and while some of the chaos has been a shared experience, each business faced their own personal and unique challenges. So how do we take stock in a moment like this to see if we're still on track to meet shared seafood sustainability goals? Looking at specific areas of work is a good place to start, particularly those areas where we're able to work together while apart.
"This was a tough 12 months, but the seafood industry hasn't lost its ambition to improve product traceability. Companies are increasingly coming together to rally behind needed common standards for sharing data throughout complex supply chains," said Traci Linder, Manager, Global Seafood Traceability at WWF-U.S.
The Global Dialogue on Seafood Traceability (GDST) 1.0 Standards launched in March 2020 to help the seafood industry collect and seamlessly share data across diverse traceability systems and supply chains. It has since received strong support from the sector with nearly 50 leading companies stating their intent to implement these standards, including major retailers like Whole Foods, Metro, Sainsbury's and Aldi, and global producers like Thai Union, CP Foods, Sea Delight, and Anova.
The business case for adopting the standards is clear, and not just because brands are putting their weight behind it. According to a study from Planet Tracker, implementing a traceability solution with the GDST 1.0 Standards can help seafood processors double their margins.
Another indication that the marketplace is moving to advance universal traceability data standards is the groundswell of key industry alliances calling on their partners in the seafood industry to adopt GDST 1.0, which includes SeaBOS, Sea Pact, the Global Tuna Alliance, and the UK Seafood Industry Alliance. In addition, more than 20 technology service providers are working to provide GDST-adherent traceability products to assist seafood companies in implementing GDST 1.0 at a rapid pace.
"All of this happened as we worked through a global health crisis and resulting economic downturn, and to me that signifies the commitment the seafood industry has to more transparent, legal, and efficient supply chains. Seafood companies and retailers haven't missed a beat in uptake and implementation of the GDST 1.0 standards. In fact, momentum is only building. It's good for business, good for the workers, and good for our oceans—it's a win all around," Linder noted.
"Common standards can help eliminate the risks associated with opaque supply chains, because ultimately mitigating these risks is about taking care of what matters most—the people and places that make seafood a critical source of nutrition for more than three billion people."
WWF has backed the Global Dialogue from the beginning, and now we're working to align our industry partners with GDST 1.0. Leaders like Sysco have stepped up to build on the growing work of the GDST, and WWF's fishing community partners are beginning to look at what it means to implement the standards on the water as part of fishery improvement projects. The wheels for traceability alignment have been set in motion over the past year, and more major corporate brands across the seafood sector will be joining the trend in the coming months. If progress on traceability is any indication of our collective health, we are on track to achieving healthy supply chains and healthier oceans.
"Commitments are great, but implementation is what we're after. Over the next year I think we'll see a growing number of companies detailing their plans to make GDST 1.0 the norm of doing business throughout their supply chains."
Just last month, Culinary Collaborations LLC made the first public and time-bound commitment to GDST 1.0 with the goal of full implementation by the end of 2022. In fact, some of the company's suppliers are already implementing the standards.
On February 16th, the GDST and four leading industry and multi-stakeholder platforms in the seafood sector joined together to issue a joint statement calling for global action to fight illegal, unreported, and unregulated (IUU) fishing. Together, the five platforms represent over 150 companies, making this the largest industry call for action on record. The groups also called for a widespread adoption of the GDST standards as a top priority for eliminating IUU products from seafood markets.
---
Click here to learn more about traceability and the work of the Global Dialogue on Seafood Traceability. Questions or inquires can be directed to the GDST Secretariat at info@nulltraceability-dialogue.org.