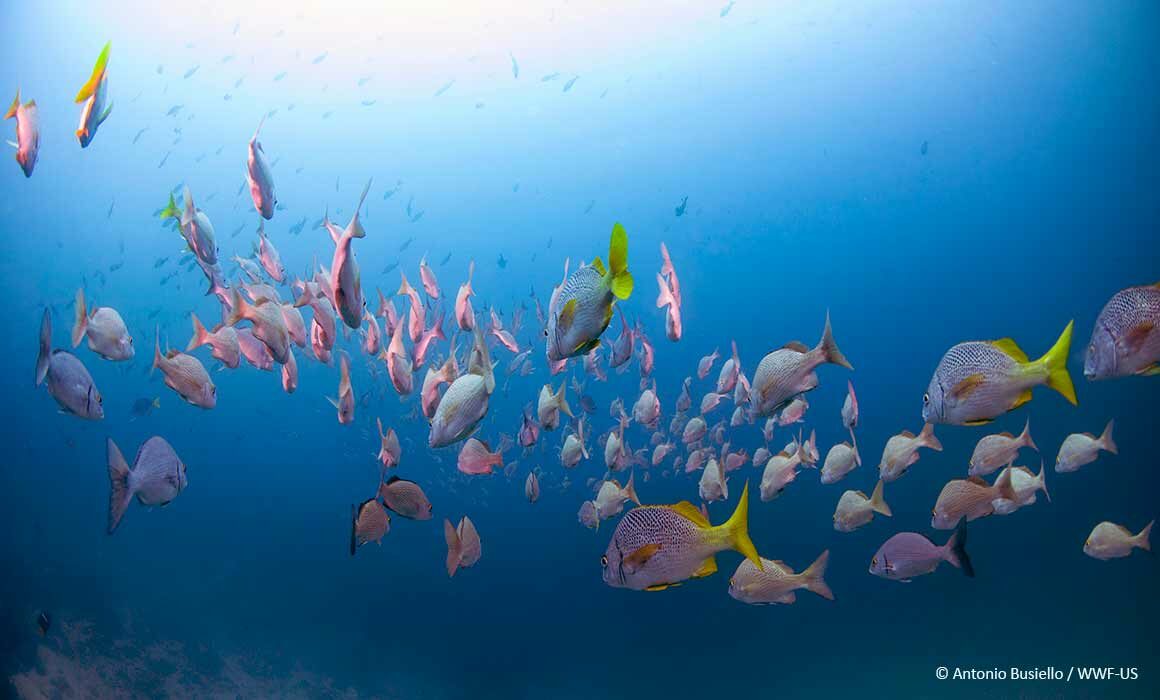 Sysco recently released its 2021 corporate social responsibility report highlighting progress against its 2025 seafood sustainability commitment announced earlier this year in partnership with World Wildlife Fund (WWF). The report confirms that the company is already making important progress in meeting the new commitment, after expanding its seafood sustainability program earlier this year to include Sysco US and Canada Broadline, and US Specialty company lines of business. This report was also an occasion for Sysco to unveil its brand-new science-based climate change goals.
"We are immensely proud of our sustainable seafood commitment at Sysco and our long-term partnership with WWF that began in 2009. Throughout this journey, our sustainability commitment has covered more than 700 million pounds of seafood, helped secure the livelihoods for more than 100,000 people who depend on fisheries for their livelihoods, and improved protections for species and habitats worldwide.

"This year, we continued raising the bar for more sustainable and responsible seafood sourcing and pioneered into new conservation areas like committing to conversion-free farmed shrimp and the Global Dialogue on Seafood Traceability."  

Neil Russell, Senior Vice President for Corporate Affairs and Chief Communications Officer at Sysco
Continuous Leadership and Progress
Sysco became the first WWF partner worldwide and largest food distributor in the world in January 2021 to commit conversion-free and traceable farmed shrimp. Throughout this year, the company has been working with its suppliers to ensure their Portico brand farmed shrimp is traceable to the source farm and addresses deforestation and ecosystem conversion impacts. As part of this effort, Sysco is conducting a supply chain mapping exercise for its global supply chains, collecting geographic location data for its shrimp farms, and will be evaluating these supply chains for potential impacts of habitat conversion. Additionally, the food service leader was the first in its sector to align with the Global Dialogue on Seafood Traceability 1.0 Standards to improve seafood traceability globally and enhance Sysco's capabilities to trace seafood products throughout its supply chain.
"Since 2009, Sysco has continued to increase both the scope and ambition of its seafood commitments, and the impacts of these efforts are being felt far and wide throughout the seafood value chain. Sysco's new 2025 goals raise the bar even further. By expanding its commitment internationally, embracing strong traceability standards and practices, and addressing deforestation and natural habitat conversion in their supply chains, Sysco is setting a leading example among its peers and industry as a whole" explains Mark Richardson, Manager for Seafood Markets at WWF-US. "Sysco's new report confirms the high impact of our partnership in improving its seafood supply chains and ensuring steady progress toward more sustainable and responsible sourcing," he adds.
In terms of meeting its new sourcing targets, as of December 31, 2020, Sysco had sourced approximately 98% of its volume for the US and Canada top 15 wild-caught Portico Brand seafood species from fisheries that are Marine Stewardship Council (MSC) certified, in MSC assessment, or in a comprehensive Fishery Improvement Project (FIP). Additionally, all of Sysco's Portico Brand wild-caught cod, pollock, clams, haddock, salmon, flounder, whiting, and halibut were sourced from MSC-certified fisheries. All of Sysco's canned tuna suppliers came from International Seafood Sustainability Association (ISSA) participating companies, committed to following best practices for tuna conservation and management.
By the end of calendar year 2020, Sysco had also sourced approximately 95% of its volume for its US and Canada top five aquaculture Portico Brand seafood species from sources that are Aquaculture Stewardship Council (ASC) certified, in ASC assessment, in a credible Aquaculture Improvement Project (AIP), or at a minimum BAP 2-star certified. This 2020 volume included approximately 16% or around 10.5 million pounds of seafood from ASC-certified farms.
Supporting change on the water for both the fisheries and the communities that depend upon them is a core part of Sysco's comprehensive sustainable seafood commitment. Sysco has supported 21 comprehensive Fishery Improvement Programs (FIPs) since 2009 through its partnership with WWF and continued working with several important fisheries to improve their environmental performance this year – including support for improvement efforts in Nicaragua lobster, Ecuador mahi-mahi, and Peru mahi-mahi fisheries.
Sysco's new seafood commitments, including its new farmed shrimp initiative, will also build on Sysco's broader ambitions to reduce overall supply chain impacts on greenhouse gas emissions. In November 2021, the company announced a new commitment to a science-based emissions reduction target in accordance with the Paris Climate Agreement in its new corporate responsibility report. Over the next decade, Sysco aims to reduce the negative impacts of its carbon footprint by decreasing its Scope 1 & 2 emissions by 27.5% by 2030 and engaging suppliers representing 67% of the company's Scope 3 emissions to set their own science-based targets by 2026.